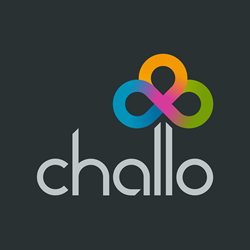 Challo provides a state-of-the-art security and compliance model to support both company-to-company and in-house interactions.
NEW YORK (PRWEB) February 11, 2020
CafeX Communications®, the award-winning provider of business communications software, announced the public release of Challo, a new cloud application to transform enterprise collaboration. Challo, inspired by an Indian word that means "Let's get going", helps people – whether from the same or different companies – work together in ways that today's collaboration tools can't easily support, if at all.
Challo is based on the concept of online workspaces: persistent virtual rooms that bring together distributed content and people into one location. Like other leading tools, Challo enables users to chat with each other, meet in HD video, share files and review information to move business forward.
However, unlike other tools, which focus primarily on internal teams, Challo provides a state-of-the-art security and compliance model to support both company-to-company and in-house interactions. Featuring the latest advancements in UI design, Challo aims to be the most secure, easiest to use, all-in-one business collaboration platform in the market, empowering enterprises to work more effectively with internal and external stakeholders.
"The collaboration space is growing quickly as workers and companies adopt consumer-friendly communication and task management tools ad-hoc out of convenience," said Raul Castanon-Martinez, Senior Analyst, Workforce Collaboration and Communications at 451 Research. "To power the category's next stage of growth, offerings like Challo are focusing on easy-to-use collaboration tools that also deliver features that are key for enterprise adoption, particularly corporate compliance, security and the critical multi-platform collaboration between companies, not just within them."
How Challo is setting a new standard in collaboration
Best-in-class security and compliance
Challo provides a complete security configuration model to control how information is shared between companies and among internal teams. Companies can choose cloud storage from Challo or use their in-house repositories to satisfy regulatory situations where data must reside within an enterprise's cloud environment. Other tools support external users via 'guest mode', which limits access to features and prohibits visiting parties from monitoring interactions. Challo, on the other hand, lets external users keep their corporate identity and maintain the same privileges as internal users, including the ability to capture a searchable audit trail of collaboration activities, meeting recordings and transcripts.
Multi-company sharing
With today's tools, sharing content outside an organization is a growing security risk; users typically 'find a way', often emailing copies of files or app screenshots that are quickly obsolete and untracked. In contrast, Challo gives administrators one place to manage access permissions on users' behalf, making it safe and easy to share original documents from an enterprise repository with authorized users from other companies. Snippets of live data from business applications, such as a user's calendar or a Salesforce CRM record, can be shared externally in the same way as policies allow.
All-in-one, persistent and outcome-focused
Challo workspaces bring all the right data and people together into one location – regardless of which business applications and companies are involved – to achieve business outcomes, such as strengthening a client relationship or accelerating a multi-company project. Challo workspaces persist beyond a single collaboration event, always-on and available for the duration of short or long-term business initiatives.
Easy-to-use web application and iOS app
Challo's modern user interface is simple and intuitive. Users can sign up for a free trial, create workspaces, start video meetings, chat and add content, all with a few clicks in any web browser. Challo is also on the App Store, available wherever and whenever work happens.
Bridge between collaboration applications
Challo not only provides built-in messaging for text conversations but also connects to chat channels in Slack and Microsoft Teams, which means a Challo message can appear in Slack or Teams and vice versa. Furthermore, Challo can act as a bridge between Slack and Teams, with chat messages passed back and forth between all three applications.
"While it's important for employees to communicate across one comprehensive platform, more and more business is done with people and companies outside the four walls of your corporation," said Rami Musallam, Chief Executive Officer for CafeX. "After creating multiple award-winning enterprise communications and API platforms for Global 500 leaders in financial services, healthcare and other industries, we are proud to introduce Challo, the first persistent, secure and compliance-ready offering that is purpose-built for both internal and company-to-company collaboration."
Market momentum
CafeX has entered a strategic partnership with OnSolve, the market leader in critical communication and mass notification solutions. OnSolve services more than 27,000 customers, including nearly half of the Fortune 500. The partnership delivers integrated solutions to the market that combine the power of Challo's collaboration and OnSolve's notification offerings to accelerate emergency responsiveness and communication. Under the agreement, both companies are also able to resell one another's products.
"Tools like Zoom, Slack and Microsoft Teams are useful, but the reality is that we and our customers need a collaboration platform that easily brings all content and people together in one secure, easy-to-access place, especially data from business applications that our users work in every day," said Mark Herrington, Chief Executive Officer at OnSolve. "With Challo we've found a platform that treats customers, vendors, employees and partners all as first-class participants, a key requirement during critical situations when stakeholders from various organizations need to work together as quickly and effectively as possible."
To learn more about the CafeX and Challo, please visit http://www.cafex.com.
About CafeX Communications
Transcending company boundaries, Challo from CafeX provides secure, simple, all-in-one business collaboration solutions that function as well outside a company's walls as within. CafeX was built and is run by veteran technologists who have innovated in telecom, VoIP, WebRTC and online collaboration for some of the world's largest communications brands for over two decades. The company serves Fortune Global 500 clients in financial services, healthcare and other categories.
CafeX Communications and Challo from CafeX are registered trademarks of CafeX Communications, Inc. All other trademarks are the property of their respective owners. To learn more about CafeX and Challo, please visit http://www.cafex.com. Challo is also available on the App Store.
About OnSolve
OnSolve is a leading global provider of SaaS-based critical communication solutions for enterprise, mass market, and government customers. The company's cloud-based software communications platform provides seamless and easy-to-deploy solutions for the exchange of critical information among organizations, their people, devices and external entities with use cases designed to save lives, enhance revenue and reduce costs. More information can be found on the company's website at http://www.onsolve.com.