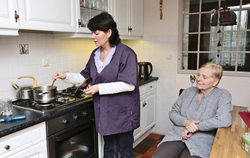 Caregiving is the art of being present with another human being. With another person in need.
DENVER (PRWEB) December 08, 2020
Champa Caregivers today announces the release of its new web-based resource "Champa Cares," a local search program for home care agencies supporting seniors who are choosing not to transition into nursing homes and in turn are choosing to age in place and need support to live at home.
In today's complicated world of the Covid-19 Pandemic, aging seniors are struggling to find the right answers, home health agencies are struggling to find caregivers and millions of Americans are struggling to find work. In fact, last week the Wall Street Journal published a report stating more than 100,000 Americans in nursing homes and other senior care facilities have died of corona virus since the start of the pandemic.
Champa Caregivers, originally founded in 2016, in March of this year launched a new caregiver recruitment solution. Champa Caregivers is a uniquely balanced program integrating a highly technical proprietary platform and real human interaction resulting in finding and connecting the right caregivers with the right home health agencies who are struggling to meet their local community demands for in-home senior care.
According to a recent article in the NY Times, How to be a Caregiver, "Even if you're not a caregiver now, odds are that you will find yourself in the role someday. In the United States about one in five adults is providing unpaid health or supportive care to someone they love — an aging parent, a family member or child with a disability or a spouse, partner or friend with an illness."
Today, 21.3 percent of U.S. adults are caregivers, according to a report from the National Alliance for Caregiving and AARP. The number of caregivers is growing, and now totals about 53 million adults. Here are some facts about caregivers in the United States:

Most caregivers (about 90 percent) take care of a relative, usually a parent or spouse, while 10 percent care for a friend or neighbor.
Women are more likely to be caregivers than men, and make up about 60 percent of unpaid caregivers.
While most caregivers of adults take care of just one person, nearly one in four (24 percent) takes care of two or more people, up from 18 percent in 2015.
More young people are taking on caregiving roles. About a third of caregivers are 39 or younger, and 6 percent of them are from Generation Z — age 23 or younger.
Caregiving is time consuming. On average, today's caregivers provide about 24 hours of care each week. And most of them (61 percent) have another job.
Champa Caregivers provides caregiver recruitment in the senior care industry by partnering with home care agencies to find the caregivers with the right skills they need to help enrich the lives of seniors. At Champa Caregivers, they focus on the front end of the hiring process. Through their proprietary platform, they post job openings, screen caregivers, and set employment interviews very quickly and seamlessly.
Champa, a Tibetan word, Cham means "tender," or "gentle" and pa makes it a noun; so Champa is "tenderness" or "loving-kindness" focuses on the power of the human connection. Champa believes taking the time to connect between a human Care Advisor and a Caregiver results in the most impactful placement with a care agency.
Caregiving is a lot about the power of community. At an entry level position, a caregiver is a companion to a senior and needs no health or medical training. These companion caregivers simply need to have the ability to work 20+ hours per work and they can be matched directly with a senior in need in their local community. Caregiving has a lot to do with the power to care. Caregivers can continue to learn and build a career through training, classes and certifications.
Champa Caregivers is looking for compassionate people looking to make a difference in their communities. Champa has immediate job openings for Home Health Aides / Caregivers who can provide companion support and caring assistance for seniors to allow them to stay in their homes safely, with their friends and family.
Champa Caregivers Mission is to support communities by serving the needs of seniors, caregivers, and care agencies. They strive to support their communities by enriching the lives of seniors with the right caregivers to allow them to safely age at home, surrounding by friends and family. Today, Champa Caregivers, works with agencies like Right at Home, Firstlight, Senior Helpers, Homewatch, Amada, Brightstar, ComForCare, Cornerstone, Nurse Next Door, and Visiting Angels which provides tens of thousands of seniors with caregiver support each month.
Bryant Veazey, the CEO and Founder of Champa Caregivers is passionate about service and the need to better support the seniors in our local communities. "I was 10 years old and I was given permission to ride my Huffy 10 speed bike to visit my Great Grandmother," Mr. Veazey recalls. With a handful of candy from the local gas station, he would arrive for his daily visit. Each day was a glimpse into another world. She spoke of the fear she had the first time she saw an automobile or the amazement when she turned on an electrical light. These experiences helped form Mr. Veazey's vision to help seniors be with their loved ones in their own homes, sharing memories.
A passionate Texan, from a long line of Texans, Mr. Veazey went into the oil and gas industry and worked around the world as a corporate finance leader completing over $14.3 billion in debt and equity deals, managing capital structures and negotiating terms with capital providers. While developing a community palm oil plantation in northern Africa, Mr. Veazey survived a near fatal plane crash giving him the opportunity to evaluate his life's priorities, returning him to his vision of helping seniors. In 2012, Mr. Veazey received a Master of Divinity and began volunteering as a hospice chaplain. His passion for working with seniors led to senior management roles in home care and home care organizations.
Mr. Veazey worked to understand home health and senior care, developing ideas that would evolve into Champa Caregivers. Today, Champa, is a diverse team, of dedicated individuals working to support caregivers and seniors in our community. The Champa Team believes in the power of the human touch both in their work as Care Advisors, supporting caregivers, matching them with the right job opportunity, and in the support the caregivers give to their clients each day.
Caregivers providing companion care are individuals offering non-medical services to older adults or people with disabilities directly in their own homes. Support can include light housekeeping, running errands, transportation to appointments, preparing meals, socializing and communicating with family members and care team professionals. Companion Care is an ideal option for people who would otherwise spend most of their days alone. According to the Champa Caregivers website, "Caregivers can help relieve burdens and support individuals in need. They may help for a long time or just a short time, but their care is always important. Caregiver requirements vary from state to state, so there is no set education level or certification required for all caregivers."
According to Champa Caregivers these are some of the benefits that attracts caregivers to the profession:

Flexibility. Choose Your Own Hours - Many caregivers enjoy making their own hours and designating a schedule that works best for them. Some home care workers prefer part-time, some full-time.
Variety. Diversity of Client Experience - Homecare caregivers experience a wide variety of clients with complex needs. There is no "one size fits all" situation. Caregivers have the ability to adapt to different lifestyles, backgrounds, races, and disabilities. Diversity of tasks keeps caregivers stimulated and can make the job more fulfilling.
Purpose. Caregiving is a Helping Profession - Providing care to a senior in their home brings enormous benefits to the caregiver and the family member. Often, the presence of a caregiver can allow someone to remain in their own home avoiding assisted living or nursing home care. Fostering independence and improving someone's quality of life is the goal of caregiving.
Accomplishment. Taking Care of Others - Dealing with the difficult scenarios caregiving presents can be stressful, but working through the tough times can be very rewarding. Everyone agrees that helping others brings joy.
Growth. Learn New Skills and Build a Career – Caring for others helps to develop empathy and the ability to connect with people, even in difficult times. Caregivers gain a variety of skills from their experiences and through training opportunities. This work also strengthens important virtues such as patience, understanding and loyalty that benefit individuals in both their personal and professional lives.
This month Champa Caregivers is releasing a new resource, Champa Cares, to help seniors more efficiently find and connect with home care agencies that provide services near them. Through this free and interactive database anyone in need of home care services can search by state, city, or zip code to find local home care business that can best support them.
For more information, visit https://champacaregivers.com/