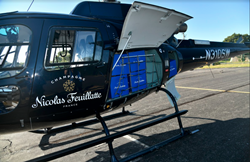 Rest assured, no occasion, be it a major holiday or a random Tuesday night, will go bubble-less on our watch. Champagne shortage? Non, merci.
THE HAMPTONS, N.Y. (PRWEB) September 09, 2021
Champagne Nicolas Feuillatte, the number one Champagne brand in France and number three in the world is on a mission: to ensure that Champagne is always an accessible delight, ready to be consumed - no occasion necessary. And while there might be a lot of things to worry about in today's world, a Champagne shortage should not be one of them.
So when Champagne Nicolas Feuillatte recently heard about the champagne shortage crisis bubbling up in the Hamptons, as reported by the NY Post, they put their mission to work, with a rush delivery via helicopter, a fleet of trucks and dinghy boats, expediting several cases to various restaurants and bars just in time for Labor Day Weekend.
Still, this bubbly scarcity isn't exclusive to the Hamptons; there are growing talks that the country is facing nationwide Champagne shortages due to an unexpected velocity in sales, with bottles flying off the shelves and an overall supply chain under stress.
The Drinks Business recently wrote about the projected shortage for the end of the year, particularly around the Holidays. Due to the pandemic, it was extremely difficult to envision the future of celebration in the midst of the crisis. Thinking outside the box, Nicolas Feuillatte believed that this global situation has helped people to realize how now more than ever, life's little moments are worth celebrating. Their mantra is that when it comes to drinking Champagne, special occasions are just too occasional, and based on the soaring demand that the Champagne industry has seen across the board this year (over 60% increase in sales year over year), it appears their instincts were right.
"We have always believed that you don't need a special occasion to drink Champagne," said Christophe Juarez, Champagne Nicolas Feuillatte CEO. "Our quality is incredible, and our price is accessible, giving consumers a chance to pop a bottle to celebrate, whatever the reason. We knew that this messaging would resonate, especially given everything we have faced together throughout this pandemic. Rest assured, no occasion, be it a major holiday or a random Tuesday night, will go bubble-less on our watch. Champagne shortage? Non, merci."
Nicolas Feuillatte unleashed the bubbles all over the Hamptons throughout the holiday weekend with exciting activations and surprises such as sand sculptures, Uber gift cards (so everyone could unleash the bubbles and then get home safe), rounds of Champagne for entire restaurants/bars and more. Bubbly lovers can find their Champagne newly available in local Hamptons hot spots such as: 72 Main, Bistro Ete, Blu Mar, Calissa, Cittanuova, Dopo Easthampton, Gurney's Star Island, Si Si at EHP and Sundays.
About Champagne Nicolas Feuillatte:
Born in 1976 at the heart of the Côte des Blancs, Nicolas Feuillatte is both the youngest of the major Champagne brands and the largest house that unites 5000 committed and passionate wine growers. In 45 years, Champagne Nicolas Feuillatte has become the most popular brand in France and the world's third leading brand of Champagne. Their belief: Champagne is an exceptional wine, but it should not only be reserved for exceptional circumstances. For the brand, luxury is about elegance and attitude, emotion and pleasure, appreciation of the great and the good. Luxury is to share a precious moment, an enchanting interlude around a bottle of Champagne Nicolas Feuillatte. The range is varied, reflecting the richness and diversity of its regions. It testifies to the know-how and the style of the brand, of which finesse and elegance are the key words. Nicolas Feuillatte Champagnes are available in more than 100 countries worldwide. Learn more at nicolas-feuillatte.com/us/.