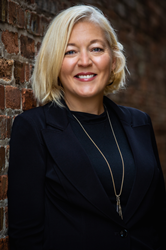 "This award is truly an honor to our commitment to providing stable counsel in a rocky world, especially this year. We are proud to help our clients by giving them a large law firm experience that provides cost-effective representation and personal attention common to smaller firms."
ELMHURST, Ill. (PRWEB) October 08, 2020
Attorney Channing Blair Hesse, partner of Grogan Hesse & Uditsky P.C. in Elmhurst, Illinois was one of several honorees honored during the Daily Herald Business Ledger's annual Entrepreneurial Excellence Awards. The virtual ceremony was held on Sept. 24.
The Ledger's awards recognize and build entrepreneurship in Cook County, DuPage County, Kane County, Lake County, McHenry County and Will County. Honorees demonstrate the best traits of entrepreneurship, including willingness to take risk, drive, perseverance and business creativity.
The publication recognized Hesse in the Growth Category. This award recognizes the honorees' best innovation-based products, technologies, systems or practices.
Hesse explains her law firm, which concentrates in the practice areas of appellate, corporate, estate planning, commercial litigation, securities, and real estate, has grown in several ways. For example, as compared to year-end 2017 and year-end 2019, the firm had an 85% growth in gross revenues. From 2018 to 2019, the firm had one major factor in this growth, which was Hesse's concentration into the firm's construction law practice. With this solid background in the construction business, she has been able to give practical advice to clients both in contract matters, but also in the employment, labor and union relations segment of the business.
"I thank the Daily Herald Business Ledger for recognizing myself and my firm for this award," Hesse said. "This award is truly an honor to our commitment to providing stable counsel in a rocky world, especially this year. We are proud to help our clients by giving them a large law firm experience that provides cost-effective representation and personal attention common to smaller firms."
About Grogan Hesse & Uditsky:
Based in Elmhurst, Illinois, Grogan Hesse & Uditsky, P.C. offers the sophistication and experience of a large law firm while providing the cost-effective representation and personal attention common to smaller firms. We are a small firm that acts big. We are a multi-practice law firm serving businesses and individuals throughout the Midwest. Our practice areas include appellate, corporate, estate planning, commercial litigation, securities, and real estate. We have a depth of experience that allows us to craft tailored solutions to our clients' legal problems. We understand their legal issues. We understand their business goals. We help our clients succeed. For information, visit https://www.ghulaw.com/. ###