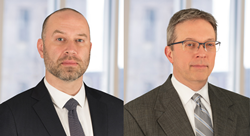 CHICAGO (PRWEB) March 03, 2020
Chapman Spingola, LLP announces that attorney John Owen has been promoted from associate to partner, and attorney Christopher Kendall has joined the firm as a partner.
John Owen joined Chapman Spingola in 2013 and has since concentrated his practice in complex commercial and intellectual property litigation. Prior to joining the firm, he worked at a nationally-recognized litigation boutique. John graduated from the University of California Berkeley School of Law.
"We are proud to announce John's promotion to partner," said Robert Chapman, co-founder and partner of Chapman Spingola. "Over the past several years, he has become a valued member of the team, working with clients on a variety of litigation matters, including several trials and appeals. We look forward to John continuing to build on his recent success."
Christopher Kendall has joined the firm as a partner. He joins Chapman Spingola after years of successful commercial, intellectual property, land use, and real estate litigation achieving multimillion dollar results and successfully defending clients. At Chapman Spingola, he will continue to concentrate in these practice areas. Christopher graduated from the University of Illinois, Urbana-Champaign before attending John Marshall Law School, where he is an adjunct professor of law.
"We are thrilled to have Chris join our team. His depth of experience and success make him a valuable addition to our firm," said Peter Spingola, co-founder and partner of Chapman Spingola. "We look forward to Chris helping lead the firm at the partner level by providing smart and creative business advice to our litigation clients and, when necessary, winning in the courtroom."
With a national presence, Chapman Spingola attorneys provide sophisticated legal services in the areas of commercial litigation, intellectual property litigation, intellectual property transactions, data privacy & information security, and business counseling & transactions.
About Chapman Spingola:
Founded in 2004, Chapman Spingola provides top-notch legal services expected of the nation's largest firms, but with a small-firm attitude and approach. The attorney roster brings best-in-class experience gained from the top law schools, premier large law firms, and serving as in-house counsel. Learn more about the firm at http://www.chapmanspingola.com.