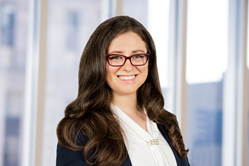 CHICAGO (PRWEB) June 08, 2021
Chapman Spingola, LLP announces that Lena Shapiro has joined the firm as an associate. She joins Chapman Spingola with years of commercial, intellectual property and information privacy experience. At Chapman Spingola, she will continue to concentrate in these practice areas as well as guide clients through active litigation. Shapiro attended the University of Illinois College of Law from which she graduated magna cum laude.
"We are thrilled to have Lena join our team. Her depth of experience and track record make her a valuable addition to our firm," said Robert Chapman, co-founder and partner of Chapman Spingola. "We look forward to Lena providing smart and creative business advice to our clients."
Headquartered in Chicago with a national presence, Chapman Spingola attorneys provide sophisticated legal services in the areas of commercial litigation, intellectual property litigation, technology & IP transactions, cybersecurity & information privacy, and business counseling & transactions.
About Chapman Spingola:
Founded in 2004, Chapman Spingola provides top-notch legal services expected of the nation's largest firms, but with a small-firm attitude and approach. The attorney roster brings best-in-class experience gained from top law schools, premier law firms, and serving as in-house counsel. Learn more about the firm at http://www.chapmanspingola.com.