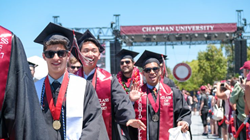 This year's commencement caps off an especially remarkable year for Chapman.
ORANGE, Calif. (PRWEB) May 14, 2019
Chapman University will be awarding degrees to some 1,700 undergraduate and more than 900 graduate students during its 158th Commencement Weekend May 17-19. Notable alumni Matt and Ross Duffer—known professionally as the Duffer Brothers, creators of the Netflix series "Stranger Things"—will be the keynote speakers at Closing Convocation on Friday, May 17.
This year's commencement caps off an especially remarkable year for Chapman.
"This has been a year of distinction at Chapman University; We were accepted into Phi Beta Kappa, one of our graduating seniors, Vidal Arroyo, was named Chapman's first Rhodes Scholar, and we recently re-classified as a 'high research activity' institution (R-2 Carnegie Classification)," said Glenn M. Pfeiffer, Ph.D., provost and executive vice president for academic affairs at Chapman. "All of these events are indicative of the caliber of research, teaching and learning that occurs on this campus."
The signature event of the weekend is the all-University Closing Convocation from 7 to 9 p.m. on Friday. The program will include the turning of the tassels, President Daniele Struppa officially conferring the degrees, and a commencement speech by the Duffer Brothers, who released "Stranger Things" on Netflix in 2016. To date, the series has been nominated for 31 Primetime Emmys and five Golden Globes. Tickets are required to attend.
In addition, each of Chapman's school and college will host its own graduation ceremony. All will be webcast live, available from Chapman University's official Facebook page.
Just prior to the opening of Commencement Weekend at 7 p.m. on Thursday, May 16, is the Interfaith Baccalaureate Service, featuring actor Max Greenfield as guest speaker. Greenfield is co-star of the television sitcoms "New Girl" and "The Neighborhood."
From a Rhodes Scholar headed to Oxford University for graduate work in data science to help physicians better treat colorectal cancer, to a Fulbright recipient who will apply her master's in educational studies to aid young students in Taiwan, the Class of 2019 at Chapman University is full of high achievers eager to give back. Here's a brief look at a handful of graduates making a deep impact throughout their communities.
Vidal Arroyo, B.S. in biochemistry and molecular biology major.
Arroyo is Chapman's first recipient of a Rhodes Scholarship, which provides all expenses for up to four years of study at the University of Oxford in England. While at Oxford, Arroyo, who is a first-generation college student, will complete graduate work and study the applications of data science to improve colorectal cancer treatments. He'll also complete a master's program in theology, with a concentration in science and religion. In addition to his studies and cancer research as an undergraduate at Chapman, Arroyo is also the founding president of Chapman STEMtors, a 100-strong campus club that conducts science programs for middle and high school students in at-risk neighborhoods.
Alejandra Solis, B.S. in biochemistry and molecular biology with a minor in economics.
Like Arroyo, Solis is the first in her immediate family to graduate from college. During her time at Chapman, she has been a student researcher in molecular genetics and a member of Schmid College Student Leadership Council. In addition, she was part of a Chapman Global Medical Brigades team that traveled to Nicaragua, where she translated for doctors working with clinic patients. She also served as a COPE Health Scholar at St. Joseph Hospital, where she performed more than 200 hours of service.
Mitchell Rosenberg, B.A. in political science, BFA in television writing and production.
For two terms, Rosenberg served as president of the Student Government Association, advocating for stronger mental health services and aid for students who are struggling economically. Inspired by his father's experience with cancer, he founded a Chapman chapter of Camp Kesem, which provides free summer camp for children whose parents are battling cancer. Also while at Chapman, he interned with the U.S. Senate, the California State Assembly and the Office of the Lieutenant Governor.
Ansley Wong, M.A. in curriculum and instruction.
Wong was recently named a Fulbright Scholar and awarded an English Teaching Assistantship grant to serve in Taiwan. She has worked closely with Professor Cathery Yeh, Ph.D., on a research project examining the complexity of language in teaching mathematics to English language learners. In Taiwan, Wong will work with local teachers to provide English instruction while incorporating cultural perspectives to expand student learning.
Katelyn Dykhuis, B.S. in health science, pre-physician assistant emphasis, with a minor in dance.
Dykhuis was named Scholar of the Year by her sorority and has appeared on every Provost List during her Chapman career. The Phoenix native will be the first in her immediate family to earn a university degree. Fascinated with education, she has served as a supplemental instructor for an upper division physiology course. Dykhuis' passionate belief in Chapman's values resulted in a cherished honor: the Spirit of Chapman Award, which she received in Fall 2018.
Alejandra Cortes, B.S. in mathematics.
A strong believer in social justice and community service, Cortes has been a major volunteer for The Nicholas Academic Centers in Santa Ana, helping first-generation students from underprivileged backgrounds to graduate from high school. Cortes also interns for Girls Inc. of Orange County, and she is president of the Chapman Feminist club. In addition, Cortes volunteers for the Summer Bridge Program, helping students transition into their first semester at Chapman.
About Chapman University: Chapman University is California's third largest private university and ranks fifth in the U.S. News & World Report listing of Best Regional Universities in the West. Chapman is categorized by the Carnegie Classification as an R2 "high research activity" institution and offers personalized education to more than 9,000 undergraduate and graduate students. Chapman strives for diversity and inclusion by recruiting and supporting students representing a variety of backgrounds, experiences, learning styles and unique talents. The campus has produced a Rhodes Scholar, been named a top producer of Fulbright Scholars and hosts a chapter of Phi Beta Kappa, the nation's oldest and most prestigious honor society. Founded in 1861 and based in the City of Orange, California, Chapman also includes the Harry and Diane Rinker Health Science Campus, 21 miles south in the Irvine Spectrum, Orange County's technology hub. In 2020, the university will open its 11th college, the Fowler School of Engineering in its newest facility, Keck Center for Science and Engineering.