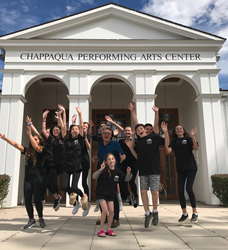 CHAPPAQUA, N.Y. (PRWEB) December 14, 2018
With the end of the year just around the corner, Chappaqua Performing Arts Center (ChappPAC) is gearing up for a new season of musical theatre educational programming in 2019 with a trio of free children's workshops. Led by experienced musical theatre instructors, including veterans of the Broadway stage, the workshops are designed to help youth age 7 and up hone their acting, singing, and performance skills.
Dubbed Westchester Magazine's 2018 Best Musical Venue, ChappPAC will offer workshops on select Saturdays from 11:00am – 1:30pm. Each session will culminate in an on stage student performance for family and friends. The workshops also feature a "talkback session" with instructors to provide participants with the opportunity to learn directly from those successful in the theatre industry.
ChappPAC's 2019 lineup kicks off on Saturday, February 2 with a Musical Theatre Comedy Workshop led by Broadway veteran and funnyman John Treacy Egan (My Fair Lady, The Little Mermaid, The Producers). Students will learn all about musical theatre comedy, including what it takes to be funny on stage from one of the Great White Way's best.
On Saturday, March 2, ChappPAC is offering another unique opportunity for blossoming theatre enthusiasts with Yes You Can: Empowerment Through Musical Theatre Workshop. In the words of ChappPAC manager John Fanelli, this particular workshop is designed to encourage students to "let go of fear and doubt to get yourself on stage and in that show!" The event will foster a fun and encouraging environment, allowing students to take both their performance skills and confidence to the next level with guidance from actor and choreographer Michael Fielder (Off Broadway, National Tours: Carnival, Mambo Kings, Havana After Dark).
The magic of the acclaimed children's film Frozen will come to the ChappPAC stage on Saturday, March 16 with Disney's Frozen The Musical Workshop. Instructors from Standing Ovation Studios will teach participants a song and dance combination from the hit Broadway show to be performed for family and friends at the end of the workshop.
ChappPAC workshops are presented by the Town of New Castle, Standing Ovation Studios, and Soup's On Entertainment. To learn more or register, visit http://www.chappaquapac.org or call 914-458-5143.
The Chappaqua Performing Arts Center is located at 480 Bedford Road in Chappaqua, NY, just inside the gate of the former Reader's Digest campus. For the latest news and updates, follow ChappPAC on Facebook (@ChappaquaPerformingArtsCenter).
About Chappaqua Performing Arts Center
Founded in 2017, the Chappaqua Performing Arts Center was established to provide diverse arts and cultural programming for people throughout Westchester County and the region. Located in the heart of Chappaqua on the former Reader's Digest campus, this amazing 425 seat venue was recently saved from demolition and brought back to life through a unique consortium of municipal and private support. The Chappaqua Performing Arts Center was formed by this consortium to program and present a unique blend of local, regional and national arts and cultural opportunities for Westchester County. Chappaqua Performing Arts Center supports local, Broadway and national artists to showcase their talents for all to see. Visit http://www.chappaquapac.org for additional information.