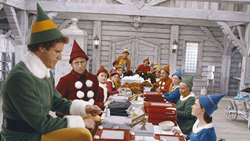 CHAPPAQUA, N.Y. (PRWEB) November 15, 2018
On Saturday, December 8, Chappaqua Performing Arts Center (ChappPAC) will get in the spirit of the season with an interactive movie screening of the perennial holiday favorite Elf. The screening will offer a unique viewing of the well-loved family film by actively engaging the entire audience.
The New Line Cinema comedy, which this year celebrates its 15th anniversary, tells the story of an elf from the North Pole (Will Farrell) who learns of his true identity as a human, embarks on a journey to New York City to find his biological father (James Caan), and helps New York remember the true meaning of Christmas. This modern-day holiday classic is sure to inspire everyone to embrace their inner "Elf."
"Elf is a perfect festive outing for the whole family," said ChappPAC manager John Fanelli. "This will be an interactive screening. Think Rocky Horror Picture Show, but with snowballs!"
Audience members will receive a participation bag filled with various Elf-related items to use throughout the show. These include indoor "snowballs" for a snowball fight in the theatre, a bag of pasta, and the four major food groups which, according to Buddy the Elf, are candy, candy canes, candy corn and syrup. Vendors in the theatre will offer "the world's best cups of coffee and hot chocolate." There will be call outs throughout the movie to further involve the audience as well as an Elf trivia contest sure to put everyone's memory to the test.
ChappPAC's Elf interactive movie screening is presented by the Town of New Castle, Standing Ovation Studios, and Soup's On Entertainment. Tickets are $15 and may be purchased at http://www.chappaquapac.org or by calling 914-458-5143.
The Chappaqua Performing Arts Center, recently dubbed Westchester Magazine's 2018 Best Musical Venue, is located at 480 Bedford Road in Chappaqua, NY, just inside the gate of the former Reader's Digest campus. For the latest news and updates, follow ChappPAC on Facebook (@ChappaquaPerformingArtsCenter).
About Chappaqua Performing Arts Center
Founded in 2017, the Chappaqua Performing Arts Center was established to provide diverse arts and cultural programming for people throughout Westchester County and the region. Located in the heart of Chappaqua on the former Reader's Digest campus, this amazing 425 seat venue was recently saved from demolition and brought back to life through a unique consortium of municipal and private support. The Chappaqua Performing Arts Center was formed by this consortium to program and present a unique blend of local, regional and national arts and cultural opportunities for Westchester County. Chappaqua Performing Arts Center supports local, Broadway and national artists to showcase their talents for all to see. Visit http://www.chappaquapac.org for additional information.