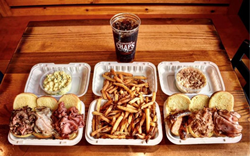 "One of our employees came to me with the idea and I loved it!" - Josh VerStandig, Owner, Chaps in Frederick
FREDERICK, Md. (PRWEB) January 15, 2021
Chaps Pit Beef Frederick has come up with the ultimate food challenge for our customers. Those who wish to try and conquer the mountain of meat and potatoes will have 30 minutes to finish. They must eat 6 meat sliders of beef, turkey, ham, sausage, pulled pork and corned beef (1.5lbs of meat alone!), 1lb of French fries, 1 large potato salad, 1 dessert and a 32oz soft drink! It costs $25 to enter, and winners will receive a $100 gift card to Chaps and a Chaps Pit Beef hat.
Josh VerStandig, the owner of Chaps in Frederick said this about the challenge: "One of our employees came to me with the idea and I loved it! We spent some time working out the details, and getting approval from our corporate office and the rest is history."
"I thought I could eat some food, but that was a lot!" – Brian from Key 103 radio in Frederick.
"To eat all that food in 30 minutes is almost impossible – but if I can do it, maybe you can too!" Chris Sparks – owner of Surelocked In Escape Rooms and first winner! Finished with 2 minutes left.
"I wish I had more capacity." – Rick Weldon, President Frederick Chamber of Commerce.
"At first, I thought I had a chance, but I tapped out." Crazy Bob – 101.5 Bob Rocks Radio.
Chaps Pit Beef in Frederick is open daily at 10:30am. The challenge is available every day, except Monday-Friday between 11am-1:30pm. Participants must sign a waiver before hand.