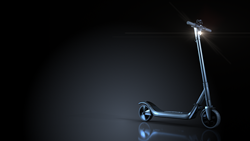 LAS VEGAS (PRWEB) January 08, 2019
Voyager, a leader in the personal electric vehicle category with innovative designs and affordable pricing, unveils at 2019 CES® this week the all-new Dash Charge E-Scooter - a sleek, electric scooter with a built in smartphone charging station. With the wireless charging mount and accompanying Voyager bluetooth app, the Dash Charge E-Scooter integrates your smartphone into your ride, providing voice assist and navigation up front and center. At a reasonable price point of $499.99, the Voyager Dash Charge is the next revolution in scooter technology, providing a tech savvy, convenient mode of personal transportation ideal for both commuters and adventurers. The Voyager Dash Charge E-Scooter and other new offerings from Voyager will be previewed at the Las Vegas Convention Center, January 8 - 11, 2018, at the Central Hall, Booth #16034.
The Dash Charge E-Scooter is the newest in a line of electric rideables from Voyager. It includes a patent pending Smartphone Mount with integrated wireless charging that supports any Qi enabled device, as well as a built in USB port for wired charging. Bundled with the scooter is a Voyager bluetooth app, which offers hands-free voice assistance, video recording, customized range alerts, and smart navigation, all working together to keep your ride as convenient as possible. With a max speed of 15.5 miles per hour and a total range of 15 miles, the Dash Charge E-Scooter makes for an enjoyable commuting option in urban areas where permitted. The eight inch wheels along with front and rear suspension allow for a smooth ride on a variety of surfaces. The Dash Charge is foldable, allowing for easy storage and efficiency. In addition, headlights and taillights on the scooter make riding at night possible, keeping you visible and safe. All of these features combine to make the perfect rideable scooter, either for commuting or recreational purposes.
The Voyager Dash Charge E-Scooter will retail at $499.99. For more information, check out Voyager at the Las Vegas Convention Center, Central Hall, Booth #16034, or visit http://www.ridevoyager.com.
About Voyager-
With a focus on convenience, Voyager implements the most advanced technologies in their design to ensure the best user experience. The company is dedicated to developing the most innovative personal electric vehicles on the market. Its electric mobility devices are thoughtfully designed with style and portability in mind. They work with world class industrial designers to ensure that all Voyager rides are as fashionable as they are functional. Only the highest quality components are used in Voyager vehicles, which all adhere to the strictest quality control and certification standards in the personal electric transportation industry. Voyager strongly recommends all appropriate safety equipment and procedures be used when operating our electric vehicles. For more information, visit http://www.ridevoyager.com.