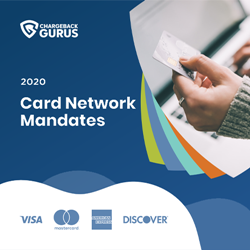 "Merchants are dealing with new expectations from their customers as well as new forms of fraud, and the card networks have taken a lot of steps to get ahead of these problems." Suresh Dakshina
DALLAS (PRWEB) November 18, 2020
Every year, card networks such as Visa, Mastercard, American Express, and Discover review and revise their rules and guidelines to better reflect the current conditions in the payments industry. While these updates are often intended to benefit consumers, merchants, and other stakeholders by streamlining processes and updating them in light of new technologies and cyber threats, it can be difficult for merchants to stay abreast of new and changing requirements.
"This year has been especially challenging for merchants, because the COVID-19 pandemic has shifted the payments landscape considerably," said Suresh Dakshina, President of Chargeback Gurus. "Merchants are dealing with new expectations from their customers as well as new forms of fraud, and the card networks have taken a lot of steps to get ahead of these problems."
While these changes are intended to help, merchants who fail to abide by the mandates may be subject to penalty fees or find themselves subject to increased liability for payment disputes, making it imperative that they understand and comply.
The new rules and requirements covered in the eGuide include the new guidelines issued in response to the pandemic, as well as new and discontinued chargeback reason codes, response time extensions, changes to Mastercard's chargeback arbitration and refund authorization processes, updates to Visa's subscription and trial offer policies, new rules regarding Visa purchase return authorizations and fuel dispenser payments, and other network mandates such as the EMV liability shift universal to all card networks.
Download your free copy of the illustrated, 20-page eGuide on Chargeback Gurus' website.
About Chargeback Gurus
Chargeback Gurus is a global company offering chargeback management and analytics solutions to increase customer satisfaction and drive repeat purchases. As trusted advisors to card networks, financial institutions and Fortune 500 companies — Chargeback Gurus enables businesses to combat constantly evolving fraud tactics and customer disputes that directly threaten profitability. Visit: https://www.chargebackgurus.com