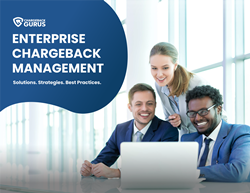 "Merchants of all sizes can find it difficult to put staff and resources toward effective chargeback management, but dealing with it at enterprise scale carries its own set of challenges," said Suresh Dakshina
DALLAS, Texas (PRWEB) May 24, 2021
The past year has seen an even greater shift in consumer spending toward ecommerce, and this rise in card-not-present activity has caused an increase in credit card fraud, chargebacks, and mobile payment disputes. In addition, novel forms of fraud continue to proliferate, resulting in unexpected spikes in dispute and chargeback activity. Despite the significant impact of chargebacks and fraud on their revenue streams, too many merchants convince themselves that chargebacks are just a cost of doing business, too challenging or time-consuming to prevent.
"Merchants of all sizes can find it difficult to put staff and resources toward effective chargeback management, but dealing with it at enterprise scale carries its own set of challenges," said Suresh Dakshina, President of Chargeback Gurus. "Many fraudsters specifically target larger merchants because they think they're more likely to get away with it. But the truth is that it's not just small businesses that can suffer significant financial harm from chargebacks."
To better equip enterprise-scale retailers with the knowledge they need to make informed choices about how to manage chargebacks, Enterprise Chargeback Management covers the current global economic impact of fraud and chargebacks, data on recent trends in the sourcing of chargebacks, the various challenges faced by enterprise merchants in dealing with chargebacks, the pros and cons of the major chargeback management solutions, and tips on measuring and optimizing the efficacy of those solutions.
The 17-page ebook can be downloaded for free at Chargeback Gurus' website.
Chargeback Gurus has been leading the fight against online fraud and chargebacks for more than fifteen years. With the right tools, analytics, and proprietary technologies, they help merchants develop and execute winning strategies for preventing fraud, fighting chargebacks, and recovering their hard-earned revenue. To learn more, visit ChargebackGurus.com.