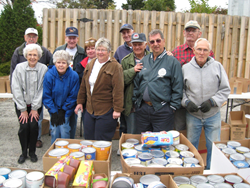 There are thousands of hungry people in our community and we want to help provide meals for those who are in such great need, especially during the holidays. We are honored to partner with the North Hills Food Bank
Pittsburgh, PA (PRWEB) October 16, 2014
With a new community program in the Pittsburgh area, Bianco Insurance Agency has teamed up with the North Hills Food Bank, and announced a new charity campaign to raise food items to support local people in need in their community. Since Thanksgiving is soon approaching, Bianco Insurance Agency pronounced their efforts to ensure hungry people in the area are not only fed but also have a reason to be joyful that day. Donations can be dropped off at any of the Bianco Insurance office locations, at 7206 McKnight Rd Pittsburgh PA 15237; 1154 Freeport Rd Pittsburgh PA 15238; 3227 W Liberty Ave Pittsburgh PA 15216; or 123 Washington Avenue, Ste. 2 Vandergrift, PA 15690.
Utilizing its own resources and seeking the help of its own network of customers and business partners, Bianco Insurance Agency marches on to ensure customers, friends, family and neighbors are always in good hands. The agency just recently launched the master charity program of which the current campaign is part of, electing every 30-60 days a new individual, organization or family in need to receive support.
"There are thousands of hungry people in our community and we want to help provide meals for those who are in such great need, especially during the holidays," said Tom Bianco, the Agency's principal. "We are honored to partner with the North Hills Food Bank and have the opportunity to join in their efforts of truly making a difference in the lives of our neighbors."
The agency will promote the current campaign over the course of the next 30-60 days, through its social media channels, email and text message communications, as well as through a monthly magazine, delivered to thousands of households in Pittsburgh, where the agency currently operates. Our Hometown magazine reserves a full page to feature the campaign and details of the cause. The electronic Flipbook version of the current issue can be accessed here: http://thomasbiancoinsurance.com/Our-Hometown-Magazine_39.
To join Bianco Insurance Agency in supporting hungry people in Pittsburgh, donors are encouraged to not only drop off most needed food items at one of their locations listed here - http://thomasbiancoinsurance.com/location - but to also share the page with friends and family. Contributors may be acknowledged for their donations through the agency's monthly magazine.
Once the current campaign is over, Bianco Insurance Agency will continue to work closely with individuals and nonprofit organizations in the area, to make sure resources are directed to capable hands that can help better the local community, one family or person at a time. Information regarding past and current campaigns supported by the Agency can be found at http://thomasbiancoinsurance.com/community-cause. More information about Bianco Insurance Agency is available at http://thomasbiancoinsurance.com/.
About Bianco Insurance Agency
The Bianco Insurance team is committed to helping keep insurance costs low, offering a wide variety of discounts. Their knowledge and understanding of the people in the Pittsburgh community help provide customers with an outstanding level of service. They look forward to helping families protect the things that are important - their family, home, car and more. Bianco Insurance can also help prepare a strategy to achieve the best financial goals. They can be contacted directly at (412) 967.7655.