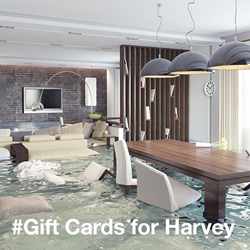 Donations from donated gift cards will be collected and distributed evenly to 5 local relief agencies...
Brick, NJ (PRWEB) September 05, 2017
Hurricane Harvey and its resulting floods damaged hundreds of thousands of homes in more than 50 counties; displaced more than 30,000 people, and prompted more than 17,000 rescues. CardCash, the world's largest gift card exchange marketplace, has expanded their services to facilitate donations to Hurricane Harvey relief agencies via the Charity On Top platform.
"The number of men, women, and children who have been injured and displaced in the Houston area is staggering. These people will need a lot of help and their stories compelled us to find a creative way to use our marketplace to assist," explained Tom Butt, Chief Technology Officer at CardCash. "Every day, we exchange thousands of gift cards through our marketplace for cash or discounted gift cards. It is rewarding to leverage the exchange to provide donations to the relief efforts via our partnership with Charity on Top." Shmuli Rosenberg, Chief Revenue Officer at CardCash points out "Right now, most of us have gift cards that haven't been redeemed in our wallets, drawers and on our mobile devices. Reasons for nonuse may include small balances, the card is a brand we don't shop at, or we have simply forgotten we have them. These gift cards may have nominal individual values, but when aggregated through the CardCash exchange, they may now be leveraged as a resource to provide substantial financial aid."
"Charity On Top's mission is to simplify and propel charitable giving via gift cards; enabling organizations to receive donations, build awareness and gain additional support services through the CharityonTop.org platform," said Kathy Selders, Board President, Charity on Top Foundation. "Together with CardCash, donations from donated gift cards will be collected and distributed evenly to 5 local relief agencies including the American Red Cross, Greater Houston Community Foundation's Hurricane Harvey Relief Fund, the Houston Food Bank, Houston Humane Society and Americares."
Gift card expert, Rebekka Rea, applauds the collaboration stating, "Retail branded gift cards do not have expiration dates. Often a gift card with a balance of a few dollars or less might be thrown away or forgotten. Companies that issue gift cards have to account for all balances stored on a gift card even if the total value available on that gift card is one cent. It can be a cumbersome accounting issue for the retailer and lost money to the consumer and economy. By providing a gateway converting the gift card balances into charitable donations, CardCash and Charity on Top unveil a powerful new channel for charitable giving by leveraging the untapped sources of funds that may have gone unredeemed forever. It is good for the consumer as they receive a tax deduction for the value of their gift card, good for the retailer, good for the economy and great for nonprofits."
Elliot Bohm, CEO commended his team for their work on this project. "As a company focused on building technologies to help solve problems and provide for our customer's needs, it is gratifying to put these skills to work for such an important cause."
CardCash accepts the exchange of hundreds of favorite gift card brands. All those who would like to help by donating a gift card can visit https://harvey.cardcash.com. For more information, please contact harveyrelief(at)cardcash.com.
About CardCash
Founded in 2009, CardCash offers the country's largest and most secure selection of discounted gift cards online. The company has been ranked for three straight years on Forbes' list of America's Most Promising Companies, and for six straight years on the prestigious Inc. 5000 list of the fastest growing private companies in America. CardCash has formed strategic partnerships in the past with eBay, CVS, Walmart, Amazon and United Airlines.
About Charity on Top
Pasadena-based Charity On Top is a unique, fin-tech platform that simplifies and accelerates charitable giving through stored value gift card products. With over 1.8 million 501(c)(3) charities supported on CharityOnTop.org, recipients are empowered to allocate the preloaded gift card funds as a donation to their favorite charities. These tax-deductible gifts may be customized with a company logo or photo and are an appreciated and professional gesture, connecting you to your employees, customers, and vendors in a more meaningful way.
A Charity On Top gift card is also perfect for weddings, memorials, birthdays or any occasion where the recipient says "no gifts please" or already has "everything." For more information, visit http://www.CharityOnTop.org.