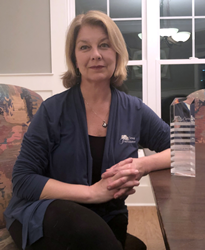 Like never before, I committed to saying 'yes' to serve our client families' and referral partners' needs and to ensure that we didn't just survive the pandemic, but thrived. My team and I are looking forward to an amazing 2021! - Charlene Blanton
MYRTLE BEACH, S.C. (PRWEB) March 30, 2021
This year, as Charlene Blanton celebrates the 10th anniversary of her Caring Transitions of Myrtle Beach business, she also gets to carry the torch as Caring Transitions' Franchisee of the Year. The award was announced at Caring Transitions' virtual recognition event on March 10.
"Charlene truly exemplifies what it means to be a part of the Caring Transitions network. She shares her victories as well as her struggles for others to learn from and, as an experienced Caring Transitions owner, she never stops looking for new ideas from her peers and continues to reinvent her business. On top of everything else, she simply cares about her clients. We are proud to recognize Charlene with our Franchisee of the Year Award," Caring Transitions President Ray Fabik said.
Caring Transitions' specially-trained professionals handle decluttering, organizing, packing, moving, resettling, in-home estate sales, online auctions, estate clearing and preparing homes for market. This senior-focused relocation and estate-sale services company serves the Grand Strand, from Georgetown, South Carolina, to Southport, North Carolina.
The Franchise of the Year recognition is awarded to one franchise owner who is recognized as a true contributor to the system, from franchise development and training, to coaching existing franchisees and participating in system-wide projects, to providing feedback to the corporate office. The Franchisee of the Year is truly the model for Caring Transitions franchise owners across the country, Fabik said.
"I'm incredibly overwhelmed by the honor of being named Franchisee of the Year. 2020 was a challenging year and I was determined to not give up. I constantly adapted, reinvented and pivoted our business structure to better help families facing difficult and often stressful transitions. Like never before, I committed to saying 'yes' to serve our client families and referral partner's needs and to ensure that we didn't just survive the pandemic, but thrived. My team and I are looking forward to an amazing 2021!" Blanton said.
Caring Transitions' services are perfect for seniors moving in with family or into a safer living situation, as well as busy families and people clearing out the home of a loved one who has passed. All of Caring Transitions' services are customizable, so clients only pay for the services they need – whether that means managing the entire move and estate-clearing or just getting someone resettled into their new place.
Caring Transitions of Myrtle Beach is a member of NASMM, CRTS certified, and fully insured. All employees background checked. For additional information, call 843-997-5088, email CBlanton@CaringTransitions.com or visit http://www.caringtransitionsmyrtlebeach.com.