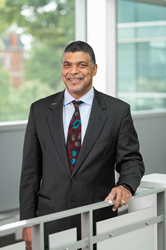 Charles has an impressive background delivering massive transit projects, and he brings a wealth of knowledge, experience, adaptability and creativity to HNTB
HOUSTON (PRWEB) October 16, 2019
Charles Beauvoir, PE, SE, joined HNTB Corporation as senior program manager and vice president, based in the firm's Houston office. Beauvoir brings more than 35 years of notable experience in the transit industry, working in the public and private sectors.
Most recently, he served as an executive officer in the Project Management Division of the Los Angeles County Metropolitan Transportation Authority, where he oversaw design and construction of the $2 billion Crenshaw/LAX Corridor Light Rail Project and Southwestern Yard Maintenance Facility.
Beauvoir is responsible for managing and delivering major projects, nurturing client relationships and working to expand HNTB's services to its regional transit clients.
"Charles has an impressive background delivering massive transit projects, and he brings a wealth of knowledge, experience, adaptability and creativity to HNTB," said Mike Voinis, PE, HNTB Houston office leader and vice president. "He has a clear passion for transit and the role it plays in a robust transportation network."
Prior to joining LA Metro, Beauvoir served another consulting firm for 29 years as a vice president, managing staff and projects for major public and private infrastructure clients.
He has authored numerous papers, presented at conventions, and served as a member of several panels on subjects, including construction management and labor.
He is the recipient of numerous engineering awards related to creative problem solving, including solutions for the Shell Building Historical Landmark Seismic Repair and Strengthening Project in California, among others.
Beauvoir earned a Bachelor of Science in architectural engineering from California Polytechnic University – San Luis Obispo.
HNTB's many signature transit projects in Texas include design for Houston METRO's Northwest Transit Center; final designer and program manager for Dallas Area Rapid Transit Blue Line Light Rail extension to serve South Oak Cliff; and many others throughout the state.
About HNTB
HNTB Corporation is an employee-owned infrastructure solutions firm serving public and private owners and construction contractors. Celebrating 105 years of service in the United States, HNTB continues to grow in size and service offerings to clients from seven office locations in Texas, currently employing approximately 360 full-time professionals in the state. HNTB understands the life cycle of infrastructure and addresses clients' most complex technical, financial and operational challenges. Professionals nationwide deliver a full range of infrastructure-related services, including award-winning planning, design, program management and construction management. For more information, visit http://www.hntb.com, or follow HNTB on LinkedIn, Twitter, Facebook or Instagram.