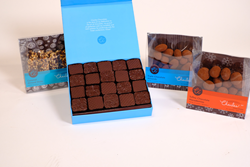 SAN FRANCISCO (PRWEB) October 23, 2020
The levels of stress and anxiety associated with the upcoming election are unlike anything we've seen in ages. Thankfully Charles Chocolates has created two practical (and fun) Artisan Chocolate Survival Sets to help ease some of that anxiety.
The first of the two sets is titled "It's Going to be a Long Two Weeks". It features several of the chocolatier's most-popular confections that not only taste delicious, but help soothe the soul. It includes a 20 piece box of Fleur de Sel Caramels, Triple Chocolate Almonds, Toffee Chocolate Macadamia Nuts and Caramel Almond Sticks. More than enough to get you and a friend or two through the next two weeks of twists and turns leading up to November 3rd.
The "It's Going to be a Long Night" collection takes account of the fact that the final results of the election might not be determined until the end of the week (if not later). A combination of Signature Filled Chocolates and three Premium Chocolate Bars are just the ticket to making it safely out the other end of this.
Customers can order either or both collections on the Charles Chocolates website. The price of each collection represents a 15% discount from the retail price of the items sold separately.
ABOUT CHARLES CHOCOLATES: Founded in 2004 by long time chocolatier and confectioner Chuck Siegel, Charles Chocolates is dedicated to making chocolate confections using only the finest ingredients. Intense study and dedication to detail goes into the selection and composition of every product from using fresh herbs, whole dark roasted nuts, and only the best chocolates. This dedication to quality and freshness is one of the guiding philosophies at Charles Chocolates. Charles Chocolates are available online and in specialty retailers across the country. Charles Chocolates' kitchens are located in San Francisco's Mission District. Find more information on the website or follow Charles Chocolates on Facebook, Twitter or Instagram.
###