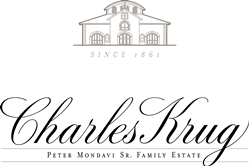 "Hospitality has always been at the core of our philosophy at Charles Krug and our new tasting experiences are central to showcasing our position as a pioneer in Napa Valley tourism." - Riana Mondavi, co-proprietress and fourth-generation family member
ST. HELENA, Calif. (PRWEB) February 07, 2023
Charles Krug Winery, home to California's first tasting room, celebrates 80 years of Mondavi Family legacy by expanding its hospitality offerings and launching new tastings experiences. Since its founding in 1861, Charles Krug Winery has been at the forefront of California wine country tourism and remains a benchmark for hospitality standards. These new offerings speak to the next generation of consumers and continue to solidify Charles Krug as a world-class estate.
The Charles Krug historical estate tasting room is part of the legacy. Dating back to 1882 and located in the idyllic town of Saint Helena, the Redwood Cellar was the first-of-its-kind tasting room. Renowned for its exceptional wines, the tasting room has evolved into the ultimate wine-country destination with stunning design and storied heritage.
"Hospitality has always been at the core of our philosophy at Charles Krug and our new tasting experiences are central to showcasing our position as a pioneer in Napa Valley tourism." comments fourth-generation family member Riana Mondavi, co-proprietress. "We're excited to continue evolving Charles Krug as the winery for Napa's next generation and the epicenter of culture in Napa Valley."
Charles Krug Winery diversifies its wine experiences where guests can reserve a variety of different tasting opportunities at the iconic St. Helena estate. Taste Like a Somm is a new, elevated and interactive workshop with Charles Krug's Certified Sommelier Jeff Arnold. Taste blind as Arnold guides guests through the nuances of wine tasting. The new Cabernet Connoisseur experience invites guests to taste through four small-lot, premium estate Cabernet Sauvignons, including the Vintage Selection flagship wine.
The Estate Tasting will continue to be available to reserve daily where guests can relax and unwind as they taste through the most-limited, small production offerings in the stunning Redwood Cellar. On weekends at 10:30AM and 2:30PM, get to know the two legendary pioneers of Napa Valley winemaking during the Tour & Tasting where guests explore the estate vineyards, learn more about the estate's storied heritage and enjoy expertly crafted wines. In the summer months, Cabanas are available to reserve for a private tasting experience where guests take in the stunning views underneath the 200 year old oak trees.
"As we toast to 80 years of bringing guests an experience like no other, we pride ourselves on being the pioneer of Napa Valley wine experiences," comments co-proprietor Peter Mondavi Jr. " Today, five generations later, our family legacy continues as stewards of this historic estate, the ultimate wine country destination."
About Charles Krug:
In 1943, Italian immigrants Cesare and Rosa Mondavi purchased the historic Charles Krug property, the oldest winery in the Napa Valley and longest-running tasting room in California. The brand was built on a foundation of family values, hard work and a European winemaking tradition; it remains a family-owned winery today, producing estate-driven, top of the line Napa Valley wines. The winery is under the direction of Peter Mondavi Jr. and his brother, Marc Mondavi, who steward the family business passed to them by their father, legendary Napa Valley wine icon Peter Mondavi Sr. The family is now proudly welcoming members of the fourth generation to the business, and the fifth generation has arrived. The family continues the legacy that started 80 years ago and is setting a foundation for generations to come. For additional information, please visit https://www.charleskrug.com/.