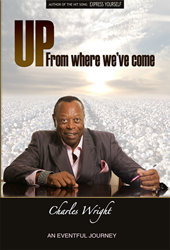 Charles is unique because he took funk in a whole other direction. Charles Wright is a gem and a national treasure. - Little Richard
Los Angeles, CA (PRWEB) September 23, 2015
While fans of Soul Music great Charles Wright are accustomed to hearing the singer/songwriter/guitarist shout "Express Yourself" on oldies radio, in movies and dozens of television commercials, the multi-talented messenger has taken up his pen to complete the first in a planned series of autobiographies that detail his profound life story as a southern Black man that miraculously brought himself from poverty to prosperity. The inaugural installment is "UP From Where We've Come" (available in stores / online October 26th), an up-close and intimate telling of the Wright family's profound struggles as sharecroppers near Clarksdale, Mississippi through the 1940s. Written in the raw dialects and rhythms of how Blacks and Whites communicated with each other in the era, it is a riveting insider's glimpse into the realities of the times.
In the Preface to his book, Wright writes, "Some may consider these chapters a vital part of American history which has yet to be told in this particular fashion." Truer words could not be spoken as the reader receives a series of history lessons from a firsthand account straight out of the memories of a most impressionable and observant youth. Through his hindsight insights as an older/wiser man, Charles Wright imparts knowledge, culture and context in each of the tome's 56 chapters.
Along with the strife and struggles, however, are visions from a wide-eyed child of the natural world around him and the industrial changes happening on that very land. There's the warmth and play of a family co-existing in a shabby home in spite of hard times. And then there is a love story between a woman and a man that blossoms against all odds and challenges as they fight to understand each other, support each other and still find a way to romance each other.
"UP From Where We've Come" emerges as a triumphant and highly unique literary statement from a man whose music has touched several generations.
Check out Charles' new music video – "Lookin' For An Ugly Woman!"
https://youtu.be/T4sJdTnTYo4
"UP From Where We've Come" will be available online and in bookstores on October 26th.
ABOUT CHARLES WRIGHT
Charles Wright is a world-renowned musician and songwriter best known as the leader of the '60s-founded Charles Wright & The Watts 103rd Street Rhythm Band and for recording the enduring 1971 classic "Express Yourself" (#3 R&B, #12 Pop – Billboard) as well as classics "Loveland", "Do Your Thing" and the racial equality anthem "Comment". Wright still records Doo Wop, Blues, Soul, Pop and Funk music - now on his own label, A Million $ Worth of Memories Records. His latest CD is Let's Make Love Tonight. He also has a forthcoming CD, tentatively titled Be Careful What You Wish For, featuring the already released first single, "Lookin' For An Ugly Woman!"
Here is a sample of the poignant reflections and biting insightful processing that Charles Wright's "UP From Where We've Come" has to offer:
UP FROM WHERE WE'VE COME EXCERPT
"As a victim of circumstance, my father developed a habit of sunup `til sundown drudgery. He forced us to work 40 acres of old man Miles' fertile land practically free of charge. There was a time, though long forgotten, when my parents kept records - until they grew tired of wasting pencils and paper. Since, added to his propensity to manipulate the price of cotton, Mr. Miles had a habit of ignoring my parents' count. His motto, which said, "A nigger is at his Best when Bent until Broken," and which he referred to as, "The Triple B System.
In two years time, my dad demanded a hundred pounds a day and not a pound less, something I could never come up with. Yet every time I failed, he whipped me viciously. I'd always start out giving it my best. But by mid-day I'd grow weary. I picked 88 pounds, 89 pounds, 92 pounds and often as much as 98 pounds. But none of these satisfied my father. It was as if he'd developed a revulsion for me and I'd actually became his sounding board - a tool to douse his own sense of defeat. Anytime he was having a bad day, my ass had to pay. It was that simple. He didn't care what he whipped me with - either an ironing cord, a wet or a dry rope, a huge cotton stalk or an occasional wire hanger. You'd think I would have developed a tolerance for pain but I never did. Instead, I developed an equal distaste for my very own father.
Throughout the ensuing years, however, I learned of the huge tower of pressure hanging over his head, and realized how he was taking out on my behind the equivalence of what Mr. Miles was taking out on his mind - an unfair exchange yet somewhat of a logical conclusion. Whether my dad knew it or not, he'd settled for a diverse form of slavery.
The process of systematic racial elimination is extremely ugly to me," Wright concludes. "I can see it so clearly. I need others to see it, too. So I'm expressing myself."
ABOUT INQUE PUBLIC RELATIONS / THE LE NOIR ENTERTAINMENT GROUP
Inque Public Relations© / The Le Noir Entertainment Group© is a boutique full service music and entertainment marketing consultancy which provides unique personalized services in the areas of artist development, project management, public relations, social media marketing, special events, concert/ music festival implementation/production, concert/talent booking, radio/video promotion and licensing.
KEEP UP WITH CHARLES BY VISITING:
expressyourself.net
Facebook: facebook.com/Charleswright103
Twitter: twitter.com/Charles_Wright
Linkedin: linkedin.com/pub/charles-wright/33/625/667
Youtube: youtube.com/user/charleswrightz1
Reverbnation: reverbnation.com/Charlesexpressyourselfwright