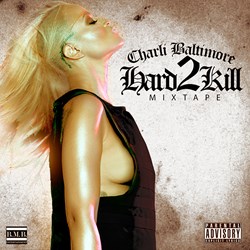 Hard 2 Kill refers to my spiritual, mental, emotional and musical fortitude!
New York, NY (PRWEB) August 25, 2013
Rapper Charli Baltimore will at long last satisfy her loyal fan base with a new mix tape Hard2Kill set to drop September, 2013. The popular recording artist will promote her new BMB Records project in the Big Apple with radio runs, media interviews and fan appreciation activities. Baltimore's official Press Day is Tuesday, August 27, 2013 from 1pm-8pm at Gansevoort Park, 420 Park Ave S. New York, NY. Pioneer journalist Cynthia Horner; Editor-In-Chief of Hip Hop Weekly will host BMB's exclusive invite-only listening session for DJs, media, celebs and other taste makers on Wednesday, August 28, 2013 at Platinum Sound Studio, 320 W 46th St, 5th Fl New York, NY 10036 from 7pm-11pm.
Hard2Kill reflects the Philly native's strength and resilient spirit. "Hard 2 Kill refers to my spiritual, mental, emotional and musical fortitude," Baltimore explained. The project's first single "BMB" featuring Trick Trick, is an ode to the label that has thrown its support behind her. The infamous Detroit emcee also directed the video for the "BMB" track. To watch the full video, click here.
About Charli Baltimore
Charli Baltimore is a Grammy nominated emcee. She has worked most notably with the Notorious B.I.G, Irv Gotti, Ja Rule, Ashanti, The Game, Trey Songz and countless others. Despite being out of the main steam spotlight for a while, Baltimore maintained relevance and has continued to sharpen her skills through collaborations, writing, and film projects. Now signed to BMB records, the trendsetting beauty is showing the world that she is more than just a pretty face with fire lyrics; she is HARD2KILL.
About BMB Records
BMB Records is an independent label specializing in music projects by established, up and coming and reemerging recording artists predominantly in the urban genre. The Detroit, Michigan-based imprint is a proponent of the underdog. BMB (Breaking Major Barriers) is committed to overcoming industry stereotypes, adversity and letting good music triumph.
For more info, request VIP/Media credentials, or to arrange an interview of Charli Baltimore, contact Trea Davenport at 678-327-8281 or treadaypr(at)gmail(dot)com.