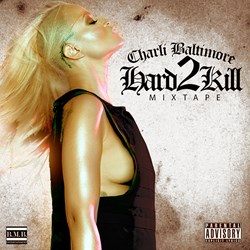 Working with Chuck was a no brainer...she has iconic talent and resilience
Detroit, MI (PRWEB) September 18, 2013
Infamous female emcee Charli Baltimore is thrilled to announce the BMB Records release of her new mixtape;"Hard 2 Kill" available on LiveMixtapes.com.
BMB kicked off Baltimore's Hard 2 Kill promo tour earlier this month in New York with a private VIP listening event and press run that garnered the attention of outlets such as Vibe, Hip Hop Weekly, Jet, TMZ, MediaTakeOut.com, NecoleBitchie.com, SandraRose.com, TheJasmineBrand.com Getty Images and more. The popular recording artist stopped in to talk with NY's notorious The Breakfast Club, Sway at Sirius XM, Kay Slay, Thisis50.com and several other top radio shows, and hosted an 8-hour media day at Gansevoort Park Hotel, conducting over 30 interviews.
The proud Philly native continues to promote throughout the US, appearing in her hometown for a Philly Fashion Week Kick Off/Mixtape Release Party, then a live performance on MTV's Rap Flix with Sway also a fan meet and greet at Black Star Video and Moody's Records in New York.
The trendsetting rapper will host a mixtape release party at Stir in Raleigh, NC with DJ Brian Dawson on Saturday September 21st as well as the 3rd Annual "Love the Press" Media Appreciation Suite for the 2013 BET Hip Hop Awards on Friday, September 27th from 4pm – 9pm at the GME Sports Lounge & Grill and countless other events, performances and promotional appearances.
"Hard 2 Kill" was co-executive produced by the infamous Detroit rapper/producer Trick Trick and CEO of BMB (Breaking Major Barriers) Brian Brown . The project's first single "BMB" feature label mate Trick Trick who also directed the video for the track. Label CEO Brian Brown expounds on his decision to throw full support behind and partner with Baltimore for this new phase of her career and latest project, "Working with Chuck was a no brainer...she has iconic talent and resilience".
Check out Charli's recent electronic press kit (EPK) to learn more about the project and her new independent label BMB.
About Charli Baltimore
Charli Baltimore is a Grammy nominated lyricist and songwriter. She has worked most notably with the Notorious B.I.G, Irv Gotti, Ja Rule, Ashanti, The Game, Trey Songz and countless others. Despite being out of the main steam the spotlight for a while, Baltimore has maintained relevance and continues to sharpen her skills through collaborations, writing, and film projects. Now signed to BMB records, the trendsetting beauty is showing the world that she is more than just a pretty face with fire lyrics; she is HARD 2 KILL.
For press inquiries and interviews contact Sr. Publicist, Trea Davenport, Trea Day Management & Publicity at treadaypr@gmail.com.
-end-