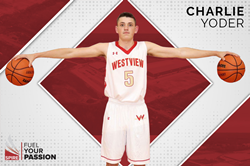 I chose SPIRE because I felt it was the best place for me to improve my game and take it to the next level. I believe Coach Craig and the staff at SPIRE will help me become a better player.
GENEVA, Ohio (PRWEB) July 09, 2020
SPIRE IA (Institute and Academy) has announced that 6' 5" southpaw shooting guard Charlie Yoder will play for its Post Grad basketball program during the 2020-21 season. Yoder led Indiana's Westview Warriors to four Northeast Corner Conference championships, two NECC tournament titles, a pair of sectional titles and one regional crown during his high school career.
Yoder made history in April when he became the first Warriors player to be named to the Indiana All-Star team. The Indiana-Kentucky All-Star series, which had been scheduled for June, was cancelled due to COVID-19 restrictions.
During his high school career, Yoder led the Warriors to a 91-19 record, finishing with 2,163 points—the most of any LaGrange County player. In his senior year, he averaged 27 points per game, 11 rebounds, 5 assists and 3 steals per game, shooting more than 80% from the line and over 50% from the field as the Warriors finished at 21-4.
"I really believe Charlie's best basketball is ahead of him once he gets stronger and plays against the level of competition that we play," said SPIRE PG Head Basketball Coach Gravelle Craig. "He played for his dad in high school, so his fundamental skills, shooting ability and basketball IQ are high level. I'm really looking forward to working with Charlie this season and watching him expand on his game."
Yoder also holds the honor of Westview's single-season school record with 734 points and its single game scoring record of 52 points.
"I chose SPIRE because I felt it was the best place for me to improve my game and take it to the next level," said Yoder. "I believe Coach Craig and the staff at SPIRE will help me become a better player."