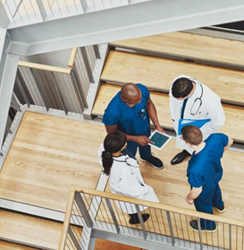 Moving into nursing management can mean higher pay and more influence in the organization, but it isn't always easy.
BOCA RATON, Fla. (PRWEB) August 26, 2019
As many of the nation's working RNs reach retirement [1], opportunities for moving into nursing management are opening up at every level. Moving into management can mean higher pay and greater influence. American Traveler -- a leading travel nurse staffing agency -- asked one of the company's Clinical Account Managers, Bonnette Novak (RN, BSN, PCCN), for her advice on climbing the ladder.
"If you aspire to a formal leadership role in nursing, you have to be self-motivated, because it isn't always easy. But if you have the ambition and drive, it can be very much worth it!
Many healthcare organizations have clinical ladder programs (CLPs) for their nursing staff. A CLP offers programmatic steps to achieve career advancement. No surprise: a CLP requires plenty of extra work outside of your regular shifts. You'll commit to extra-curricular activities, continuing education and training. You may be asked to participate on hospital committees like shared governance, unit-based councils, informatics, quality improvement, and patient safety initiatives. You may also need to advance from ASN to BSN, MSN, and more.
As you move into nursing management, you'll come to understand how health systems run -- and why changes are being implemented in your organization. You'll contribute to process improvements and improve nursing practice. I also attend leadership conferences to develop my leadership skills. It helps me understand my role better and gives me insight into the concerns of the people I lead. "
Even if a healthcare employer doesn't have a formal clinical ladder program, there are still some tried-and-true ways for registered nurses to get ahead:
1. Learn from others - If a colleague has a unique case on their hands, ask them questions -- perhaps they are open to mentoring or being shadowed.
2. Be quick to volunteer - When an opportunity arises at work - particularly one that involves learning a new skill - volunteer! A willingness to learn new things is a clear sign of career focus.
3. Network - Asking colleagues for advice builds professional relationships. That charge nurse who allowed a new nurse to shadow them on a cardiac floor might just be in a hiring position someday. Getting involved in professional organizations like ANA, AACN, ENA, NAON, or AONE is a great way to network.
4. Earn certifications - Nursing certifications are key. In addition to signifying proficiency, certifications also convey initiative and drive. Plus, the reality is that healthcare employers love them.
5. Engage in professional development - Development can mean conferences, seminars, in-house training, or at-home reading. Participation in ongoing education is something that managers value and are likely to reward.
6. Pursue higher degrees - Nurse management or specialist jobs frequently require higher degrees; nearly all will require a BSN. Nursing management positions may require a master's degree or further.
7. Accept leadership roles - Don't hide in the shadows! Take advantage of opportunities to learn people management and organizational skills - which are quite different from clinical skills. Serving as a taskforce chair or special project lead can be a natural first step.
Bonnette also advises RNs who are looking to learn new skills and build their resumes to look into travel nursing. Travel assignments demonstrate adaptability, flexibility, and clinical competence, and can expose nurses to a wide range of clinical settings and experiences.
About American Traveler
American Traveler is a travel nursing company that staffs healthcare professionals at more than 4,500 hospitals nationwide including over 80% of the largest hospital systems in the United States. American Traveler is GSA-approved and a preferred staffing source for temporary and permanent registered nurses, technologists, occupational therapists and physical therapists. The company has continuously demonstrated the quality of its healthcare staffing services by earning the Joint Commission's prestigious Gold Seal of Approval since 2005.
About American Traveler's Clinical Account Manager
A practicing RN for over two decades, Bonnette Villalba Novak was an Assistant Nurse Manager for eight years and a Clinical Manager in a Telemetry unit for three years. She also served on the board of the Palm Beach County Chapter of the AACN and served as its president in 2018.
1. "How Should We Prepare for the Wave of Retiring Baby Boomer Nurses?", Health Affairs, October 2017