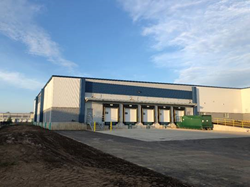 Clarkston, Mich. (PRWEB) June 15, 2020
The $4 million addition, which broke ground last year, increases the warehouse capacity by more than 60% with an added 80,000 square feet to accommodate additional storage for more than 9 million pounds of material, giving a total capacity of 206,000 square feet. The updated facility improves processing throughput and efficiencies and includes five additional loading docks as well as a new blender, equipment upgrades, and expanded repacking capacity to enhance value-added services such as custom blending, material repackaging, and bulk-out capability. The strategic location of the warehouse allows for the latest cut-off times in the industry, which provides customers more flexibility.
The facility, located at 5245 Dylan Drive, currently employs 12 people. Due to the Company's product line growth and warehouse expansion, it's anticipated that another 10-12 positions will be added. "When we built this facility in 2016, we planned for potential expansion," said Mike Hall, Supply Chain Manager. "Due to the growth of the business and performance of our team, we're excited to add this additional space earlier than we had originally planned. We value the partnership, commitment, and support offered by the City of South Bend to help make this possible. It will give us an increased ability to provide outrageous service to all of our customers as we grow along with them, always striving to exceed their expectations with each order."
About Chase Plastics
Chase Plastic Services, Inc., is a stocking distributor with a portfolio that offers more than 26,000 varieties of specialty, engineering and commodity thermoplastics from the industry's leading manufacturers and global suppliers. As a top-ten North American specialty and engineering plastics distributor, Chase Plastics is committed to helping their customers turn resin into reality by Redefining Resin Distribution. ®
The Company, formed in 1992, surrounds customers with an industry-leading portfolio of value-added services delivered by skilled sales professionals and dedicated teams of technical process engineers, application development engineers, and more – all of whom guide the material selection, application development, and manufacturing processes. The Company's unmatched level of dedicated support, together with blending, repacking, inventory management, and logistics services via a network of distribution and sales locations throughout North and Central America, is singularly focused on helping customers boost efficiencies and profitability.
Based in Clarkston, Michigan, Chase Plastics was founded by Kevin and Carole Chase, who serve as the Company's President and Vice President, respectively. Learn more about Chase Plastics and its commitment to providing outrageous customer service at http://www.chaseplastics.com