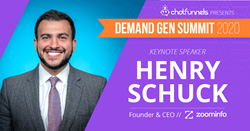 SILICON SLOPES, Utah (PRWEB) September 02, 2020
Today, ChatFunnels announced that Henry Schuck, CEO of ZoomInfo will be giving the keynote presentation at their 2020 Virtual Demand Gen Summit held on September 16th 2020. He will share his insights explaining the complexity of modern data privacy in context to effective sales and marketing usage. Attendees will also hear from industry thought leaders and experts, like Sarah Fruy, Brian Carroll, David Lewis, Chad Burmeister, Latane Conant, Lianna Kinard, Kyle Coleman and Matt Heinz.
Henry Schuck is the CEO of ZoomInfo (formerly DiscoverOrg). ZoomInfo is a leading go-to-market intelligence platform for sales and marketing teams. The Company has over $350M in recurring revenue, 1,000 employees, and is growing profitably. Schuck founded ZoomInfo in 2007 in his law school apartment; since then, the company has undergone 5 mergers and acquisitions and is backed by The Carlyle Group and TA Associates. Schuck earned his J.D in law from Ohio State University, his business degree from the University of Nevada, and studied comparative law at Oxford.
Henry quote
"Demand Generation has never been more challenging than it is today; buyers expect meaningful and personalized engagement." said Billy Bateman, ChatFunnels Co-Founder. "At the 2020 Virtual Demand Gen Summit, we're fortunate to have amazing thought leaders, sales and marketing experts share their unique and vast expertise with our attendees."
Register for the Demand Gen Summit 2020 and get up-to-date information on the agenda and content all found on the event website at https://www.demandgensummit.com/registration-2020
About ChatFunnels
ChatFunnels helps customers generate pipeline by engaging, qualifying and converting website visitors through live chat and chatbots. It's easy to use, no-code bot software, includes a drag-and-drop bot builder with audience-specific targeting, an intelligent FAQ capability, customized reporting and a flexible and customizable live chat system. ChatFunnels helps your marketing and sales teams optimize each step of your funnel through real-time conversations, connecting users with helpful content and a 24/7 qualification system. ChatFunnels is used by leading brands such as XANT.ai, Ivanti, Pantheon, Kazzcade, Brio Stack and Quick Base.
ChatFunnels—Build bots without code. https://chatfunnels.com/