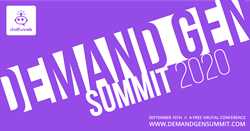 PROVO, Utah (PRWEB) August 10, 2020
ChatFunnels, the first ever conversation optimization platform, announced today that it will be hosting its annual Virtual Demand Generation Summit. The Summit will be a one-day online event packed with 30+ of the industry's foremost expert presenters to be held September 16th, 2020. The event will announce the Demand Gen Awards for top industry influencers, leaders and reps, and will include speakers:
Suaad Sait - President – Xant / InsideSales.com
Anna Crowe - CEO - Crowe PR
Rick Tolman - VP of Demand Gen - Pluralsight
Gabe Larsen - VP of Growth - Kustomer
James Oldroyd - Professor of Strategy - BYU
Mario M. Martinez Jr. - CEO - Vengreso
Mark Maughan - VP of Business Operations - Domo
Billy Bateman - Co-founder & VP of Operations - ChatFunnels
Brian Radford - Director of Strategic Development - The Church of Jesus Christ
Kraig Kleeman - Author, Speaker - TheSalesCadence.com
Mark Bryson - Consulting Manager - ChatFunnels
And many more
Additional featured speakers come from some of the world's leading companies, including Salesforce, Microsoft, Ivanti, QuickBase, Pantheon, SAP and Cloudera. The summit gathers sales and marketing leaders, sales development reps and marketing operations professionals to learn from experts in driving, engaging and closing demand.
The Demand Gen Summit details and registration can be found at http://www.DemandGenSummit.com.
About ChatFunnels
ChatFunnels helps customers generate pipeline by engaging, qualifying and converting website visitors through live chat and chatbots. It's easy to use, no-code bot software, includes a drag-and-drop bot builder with audience-specific targeting, an intelligent FAQ capability, customized reporting and a flexible and customizable live chat system. ChatFunnels helps your marketing and sales teams optimize each step of your funnel through real-time conversations, connecting users with helpful content and a 24/7 qualification system. ChatFunnels is used by leading brands such as XANT.ai, Ivanti, Pantheon, Kazzcade, Brio Stack and Quick Base.
ChatFunnels—Build bots without code. https://chatfunnels.com/