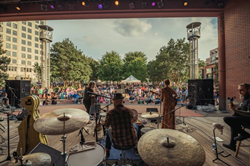 CHATTANOOGA, Tenn. (PRWEB) July 25, 2022
The end of summer is near, but there is still plenty of excitement in the Scenic City! Chattanooga's Summer PLAYlist is still rocking with the sounds of buskers jamming on the Walnut Street Bridge, paddles gliding through the Tennessee River, and mixologists shaking-up and serving-up the season's most refreshing cocktails. Head to Chattanooga for the perfect end-of-summer getaway!
Visitors are encouraged to take advantage of hotel packages for an affordable getaway like 20% off on reservations for two nights or more at the Bode Hotel now through Aug. 31, 2022, or the Chattanooga Marriott's Tennessee Aquarium package to cover accommodations, breakfast, and aquarium tickets for a family of four. Keeping a visit budget-friendly is easy with Chattanooga's many parks, hiking trails, swimming holes, free live entertainment, and all the fun, free things to do in the city. 
Here are four top ways to enjoy Chattanooga at little to no cost:
1. Sculpture Fields at Montague Park - Experience the arts and stroll through the 33-acre Sculpture Fields at Montague Park, populated with sculptures from all over the world. When visiting the free park, you may witness the awe-inspiring installation of a larger-than-life sculpture, see artists demonstrating their craft, kits flying, picnics, and more.
2. Nightfall Concert Series - The free Nightfall Concert Series, continually held for over 30 seasons, takes place every Friday night from early May through early Sept. Nightfall features a diverse schedule of quality musical entertainment, local vendors, food trucks, and fun activities for kids.
3. Coolidge Park - Explore the North Shore's 12-acre Coolidge Park with beautiful views of the Tennessee River, Downtown Riverfront, and Lookout Mountain. The park features plenty of open green spaces, a restored antique carousel, an interactive water fountain, access to one of the world's largest pedestrian bridges, the Walnut Street Bridge, and Frazier Avenue's art galleries, shopping, bookstores, and restaurants.
4. Tennessee Riverwalk - Chattanooga's beautiful and diverse Riverwalk is a 25-mile-long paved path along the banks of the Tennessee River, with nature, culture, and cuisine along the way. The Riverwalk is easily walkable or bikeable with the Bike Chattanooga bikeshare system.  
Chattanooga is a two-hour or less drive from Atlanta, Nashville, Knoxville, Huntsville, and Birmingham. The Scenic City's wondrous outdoors provide hours of activities, nature, and fresh air, all close to an urban downtown on the Tennessee River. Chattanooga's walkable core is filled with restaurants, shops, and new experiences for visitors to enjoy. 
Plan your end-of-summer vacation now at VisitChattanooga.com/Summer.
Everyone is invited to use #VisitChatt on social media for a chance to be featured by @VisitChatt on Facebook, Instagram, and Twitter.  
About the Chattanooga Tourism Co.   
The Chattanooga Tourism Co. serves the community by using visitor-generated funds to inspire people to visit and connect them with authentic Chattanooga experiences. Visitor spending contributes to the quality of place, resident savings, thriving local businesses, job creation, capital investment, and public services, including education and safety. The 700+ Tourism Co. partners represent a variety of industries, including lodging, dining, food and beverage, attractions, manufacturing, finance, government, healthcare, retail, and more. VisitChattanooga.com