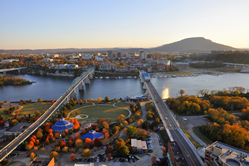 Listed in August 2019 as one of "14 Idyllic Fall Family Vacations" by TripAdvisor and named one of only 10 "Best in the U.S. Travel Destinations" by Lonely Planet, Chattanooga is a top destination for fall fun in the South.
CHATTANOOGA, Tenn. (PRWEB) September 05, 2019
Listed in August 2019 as one of "14 Idyllic Fall Family Vacations" by TripAdvisor and named one of only 10 "Best in the U.S. Travel Destinations" by Lonely Planet, Chattanooga is a top destination for fall fun in the South.
Fall in Chattanooga's Naturehood – the urban core surrounded by easily accessible mountains, rivers and scenic beauty – is filled with spectacular color displays, outdoor festivals, culinary events, live music and entertainment, Oktoberfest celebrations and thrilling Halloween experiences.
The compact, vibrant Downtown District is easily navigable by foot, free electric shuttle or the Bicycle Transit System. Many fall events take place downtown making everything easily accessible. Lookout Mountain fun and other popular events and attractions are less than a 15-minute drive from downtown.
Chattanooga makes it easy for people to plan their fall getaway with all of the events and opportunities listed in one place.
FALL COLOR TOURS
The 2019 Fall Color Outlook will be published near the end of September, providing a comprehensive forecast week by week of different tree varieties and when they're expected to change color. As the trees change, Chattanooga offers many options to see the brilliant colors by foot, boat, train or bike:

BY FOOT – Chattanooga offers miles and miles of breathtaking vistas from Signal Point (the southern terminus of the Cumberland Trail), Raccoon Mountain, Sunset Rock, Lula Lake Land Trust, Prentice Cooper State Park, Point Park and more. For an added experience, visitors can stroll through the fall colors by booking a walking tour with Free Walk Chattanooga, Chattanooga Segway & Bicycle Tours or Sweet Magnolia Tours.
BY BOAT – A cruise on the Tennessee River shows off nature's brilliant canvas of fall colors aboard the Chattanooga Riverboat Co.'s Southern Belle or the Chattanooga Ducks. Water lovers can also float or paddle the river through waterbikes from Adventure Sports Innovation or a SUP or kayak from L2 Outside.
BY TRAIN – The Tennessee Valley Railroad and Lookout Mountain Incline Railway entices passengers to try a variety of train rides both through the beautiful Tennessee valley or up Lookout Mountain.
BY BIKE OR SEGWAY – The Chattanooga Bike Share System invites people to hop on a bike to view beautiful fall foliage while pedaling along the 13-mile paved Riverwalk. The route runs parallel to the Tennessee River and through the scenic Bluff View Art District. Chattanooga Segway & Bicycle Tours offers guided bike or Segway tours of downtown Chattanooga and the splendid fall display. Adventurers can even bring their own mountain bike and explore Stringer's Ridge, Enterprise South Nature Park or many mountain trails.
FESTIVALS, EVENTS AND LIVE MUSIC
Fall in Chattanooga is packed with a variety of fun and music including Wine Over Water Food & Wine Festival, 3 Sisters Bluegrass Festival, Levitt AMP Chattanooga Music Series, Chattanooga Oktoberfest, Enchanted MAiZE, Haunted Cavern & Fear Connection, WinnepeSPOOKah!, Halloween Eerie Express and Boo in the Zoo. Big 9 Roots Festival and Chattanooga Motorcar Festival are two new events this fall. There's also plenty of live music and entertainment at The Signal, Comedy Catch, Songbirds North & South Stages, Tivoli Theater, Memorial Auditorium and at around 20 restaurants that offer live music on a weekly basis.
PLANNING A VISIT
Many accommodations in Chattanooga provide special fall, family or romantic packages that will save visitors and guests money. Packages often include tickets to popular fall attractions in Chattanooga.
A WHOLE MONTH OF FRIGHTS AND DELIGHTS
In October, Chattanooga transforms into ChattaBOOga! The fun and frights to be had are not of the typical haunted city. For the bravest of souls, Chattanooga tests nerves with an intense haunted experience crawling with terrifying creatures, chilling ghost tours of the most haunted spots and a stroll down a haunted forest trail. For more mild experiences, families can enjoy spooky rides aboard a haunted vintage train, haunted amusement park rides, trick-or-treating at the zoo, or an aquarium visit to see weird creatures whose abilities and behaviors seem stranger than any legend or myth. ChattaBOOga! offers thrilling, chilling adventures unlike anywhere else.