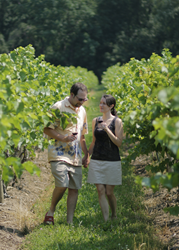 Chautauqua, New York (PRWEB) May 11, 2017
Spring is metaphorically a season of new beginnings. Some may honor this tradition by spring cleaning their home, an act that implies cleaning the nooks and crannies of our living spaces or purging our underused belongings. Maybe it is a time for reinvention. A new wardrobe, hair style, or self-care routine might be just what we need. Or it could be a time to start a new hobby... jogging or gardening anyone? Here in Chautauqua County, we think of spring as an opportunity for learning and exploration. We ask our guests, "What would you like to learn today?" and direct them to the myriad of Chautauqua in Spring events dedicated to this concept of leisure learning. There is a tour, workshop or dining experience to pique just about everyone's interest during our five week Chautauqua in Spring season, May 12-June 18, 2017.
Here you will find a short list Chautauqua in Spring events curated by the Chautauqua County Visitors Bureau to suit multiple traveler archetypes. Before you arrive, request a free 2017 Chautauqua County Visitors Guide and Accommodations Directory by calling CCVB at 866-908-4569. Visit the Tour Chautauqua website, chqspring.com, for a complete list of Chautauqua in Spring events, stay and play promotions, and area attraction information.
The Food and Wine Aficionado:

Taste the Difference: An 1850s Farm to Table Event – Thursday, May 18, 2017: Chef Robert Cross will discuss meal preparation in the 1850s while guests enjoy a freshly prepared meal reminiscent of the era. This is a chance to wear your 19th century finery, enjoy music, conversation, dance, all while discovering what life was like during the 1850s. RSVP required. Hosts: Fenton History Center and Busti Historical Society. Cost: $30. Contact: 716-664-6256
Sprinkle Flowers on Your Plate – Tuesday, May 23, 2017: Discover the tastes and uses of edible flowers. Novice and experienced gardeners and cooking enthusiasts will learn how to grow, harvest and incorporate these delectable edible blooms into meals. Host: Hickory Hurst Farm. Cost: $15. Contact: 716-789-9427
Estate Wine Pairing Dinner, "Romance in France" – Saturday, May 27, 2017: Begin with sparkling wine cocktails and appetizers in a historic tasting room. Then, glass in hand, stroll through Johnson Estate Winery's abundant iris gardens adjacent to the vineyards. A candlelight dinner will be served featuring an elegant and traditional French meal. Host: Johnson Estate Winery. Cost: $60. Contact: 716-326-2191
Fungi, Feasting and Foraging – Sunday, May 28, 2017: Want to know what's edible in your backyard? Join mushroom hunter and Chef Garrett Taylor, shiitake mushroom farmer Steve Rockcastle and plant forager extraordinaire, Harold Reynolds on a culinary adventure. Chef Taylor will provide a sampling of wild and cultivated mushrooms, plants and farm products, as we enjoy lunch overlooking the pastoral landscape. After, venture to the mushroom yard for a walking tour. Host: Green Heron Growers. Cost: $45. Contact: 716-753-0371
Sunday Morning Vineyard Walk and Warehouse Brunch – Sunday, June 4, 2017: Take a brisk morning walk in the gardens and vineyards with Fred Johnson, owner of Johnson Estate Winery. This is your chance to ask questions about vineyards and wine in a relaxed setting. Walking "classroom" provides information about making wine at Johnson Estate - from the bud to the bottle. The tour begins at the front of the winery and includes a walk of approximately two miles through the vineyards, a brief winery tour, and light brunch pairing in the warehouse. This brunch might include seasonal berries or fruit, quiche, and bread with appropriate wine pairings. Host: Johnson Estate Winery. Cost: $25. Contact: 716-326-2191
Sunset Wine Pairing Dinner – Saturday, June 10, 2017: Enjoy a 5 course dinner on the patio overlooking Lake Erie. Each course will be paired with the appropriate wine from local Willow Creek Winery. Throughout dinner, a wine steward will educate guests on the wine being served as well as provide additional pairing information you can utilize at home. Host: Cabana Sam's Sunset Bay Grill. Cost: $45 not including gratuity. Contact: 716-698-2934
The Outdoor Adventurer:

Overnight SUP Paddling and Camping Trip - Saturday, May 21 – May 22, 2017: Guided overnight paddling trip along beautiful sea cliffs to an amazing campsite on a private beach. This trip will leave you amazed by the beauty of Lake Erie's coast. After a day of paddling, guests will set up camp, cook dinner and tell campfire stories. In the morning, enjoy breakfast on the beach before packing up and heading to shore. Host: SUP Erie Adventures. Cost: $120. Contact: Christian at 716-868-2975
The Lawson Center's Lecture Series - Wednesday, May 31, 2017: Learn about boating safety while enjoying lite refreshments. Arrive a little early to allow yourself time to explore this beautiful space dedicated to Chautauqua County's boating heritage. Browse antique boats, watercraft and even an airplane! Host: The Lawson Center. Cost: $5 donation. Contact: 716-386-3355
National Learn to Row Day - Saturday, June 3, 2017: Learn the basics of rowing (crew) in a 4 to 8 person shell on the Chadakoin River in Jamestown. Follow up sessions the next week are included. Host: Chautauqua Lake Rowing Association. Cost: $60 adults/$30 high school students. Contact: 716-410-1851
Full Moon Paddle on Chautauqua Lake - Saturday, June 3, 2017: The only thing as beautiful as the sun setting on the lake is the moon rising. Reservations are required. Guests can rent kayaks/canoes or bring their own. Host: Evergreen Outfitters. Cost: $25 including rental/$5 with own equipment. Contact: 716-763-2266
Nature Play Day, Mud Mania – Saturday, June 17, 2017: Children and their favorite adults are invited to play in the mud at the Audubon's Nature Play Area. Extra equipment related to the theme will be placed around the Play Area, such as a mud pie kitchen, natural brushes and water. Naturalists will be on hand to answer any questions. Don't worry, a hose will be provided for cleanup. Host: Audubon Community Nature Center. Cost: $6. Contact: 716-569-2345
SUP Yoga and Paddle Fitness – Ongoing Event: SUP Erie Adventures offers SUP Yoga, SUP Fitness, Social Paddles and Teen Nights beginning on May 28th and ending on September 27th. Class packs are available on their website: superieadventure.com. Host: SUP Erie Adventures. Cost: $45. Contact: 716-868-2975
Martz Observatory Open House – Ongoing Event, Every Wednesday: Public nights are open for all to enjoy. Observe the night sky, explore the control room and learn about the sciences of astronomy and physics. Host: Martz Observatory. Cost: Free, donations appreciated. Contact: 716-569-3689
The Nature Enthusiast:

Bird Banding at the Audubon – May 6, 13 & 20 and June 3, 10 & 24, 2017: Join research ornithologists as they capture, band and release birds, recording them for scientific purposes. No reservation required. Bird guides and binoculars are recommended. Host: Audubon Community Nature Center. Cost: FREE, donations appreciated. Contact: 716-569-2345
Mother's Day Wildflower Walk – Sunday, May 14, 2017: Learn about spring woodland wildflowers with naturalist Jack Gulvin on a hike around the Bentley Sanctuary. Take a couple hours to enjoy the breathtaking beauty of even the smallest and most common wildflowers this Mother's Day. Host: Audubon Nature Community Center. Cost: $8. Contact: 716-569-2345
All About "U" Series – All About Herbs – Monday, May 15, 2017: This fun, informative, introductory class gives participants knowledge on the many uses of herbs as well as talks about using environmentally friendly organic herbicides to treat your garden. Participants will learn how to grow and use fresh herbs as well as make herb vinegar. Additionally, take home some herbs to plant such as rosemary, basil, tarragon, parsley, oregano, chives, or cilantro to jump start your garden. Host: Jamestown Community College. Cost: $37. Contact: 716-338-1005
Fun with Fungus, Growing Shiitake – May 20 & 27, 2017 and June 3 & 4, 2017: Learn to grow shiitake mushrooms during this cultivation workshop. Get dirty in the shiitake yard as you inoculate mushroom logs. After some hard work and a lot of fun, attendees will lunch together on a meal featuring Green Heron shiitake mushrooms. All participants will take home a log to fruit and skills to grow their own gourmet mushrooms. Host: Green Heron Growers. Cost: $40. Contact: 716-753-0371.
Iris in Bloom – May 27, 28 & 29 and June 3, 4 & 5, 2017: Wander garden beds featuring hundreds of iris blooms at Johnson Estate Winery, New York's oldest Estate Winery. Buy French picnic fare in the winery – baguettes, charcuterie, cheese and wine – and enjoy a "plein air" picnic at tables set up adjacent to the iris beds. Host: Johnson Estate Winery. Cost: Free to view. Contact: 716-326-2191
Veggies in a Bucket – June 1, 2017: Bring your own 5-gallon bucket and learn how to plant and care for a container vegetable garden! Workshop fee includes soil and choice of two seedling transplants (tomato, pepper or cucumber) along with two packets of seeds (basil or parsley.) Host: Hickory Hurst Farms. Cost: $15. Contact: 716-789-9427
Early Spring Harvests and More Planting – June 11, 2017: Get hands on by harvesting and sampling the first crops of the year. Try Minutina, Minzuna, Sorrel, Honeyberries and more. Guests will also help with planting heat-loving, frost-sensitive summer crops like tomatoes, eggplant and melon. Learn how to use plastic mulch to keep these tender roots warm! Host: Audubon Community Nature Center. Cost: $15. Contact: 716-569-2345
The Arts & Culture Maven:

Lucille Ball-Desi Arnaz Comedy Center Behind the Scenes Tour – May 13 & 27, 2017: A knowledgeable guide will give you a personal look into the lives and careers of the "First Couple of Comedy" and their impact on television history. Host: Lucille Ball and Desi Arnaz Museum and Center for Comedy. Cost: $15. Contact: 716-484-0800
Watercolor Classes at the Depot – May 16 & 23, 2017 and June 13, 20 & 27, 2017: The energy from these classes helps to unleash creativity you never knew you had! A different theme each week. Multiple water color techniques will be explored and demonstrated so enhance our understanding and provide ideas for future work. Host: Mayville Watercolors. Cost: $30/class or $100 for 4. Contact: mayvillewatercolors(at)gmail.com
World Drumming Workshop with Jim Donovan – Friday, May 19, 2017: An invigoration workshop experience that teaches you how to play the African djembe drum, play exciting traditional world rhythms, strategies for tapping into your own musical creativity and lifting your mood through social drumming. Host: The Studio at Panterra. Cost: $35 presale. Contact: jimdonovandrums(at)gmail.com
Chautauqua-Lake Erie Art Trail Open Studio Tour – May 27-28, 2017: Open studio tour that invites guests into the homes and studios of area artists to see where they create their art. Participating studios encompass many disciplines: painting, photography, ceramics, sculpture and textiles. Host: Chautauqua-Lake Erie Art Trail. Cost: FREE. Contact: http://www.chautauquaarttrail.com
Silk Scarf Workshop – Friday, June 2, 2017: Hands on workshop that will teach you how to create a piece of wearable nature themed art. You'll go home with a beautiful silk scarf that you can keep or give as a gift. The technique learned in this workshop can be applied to other textiles as well, providing endless opportunity for you to express your new creative skill! Host: Audubon Community Nature Center. Cost: $38. Contact: 716-569-2345
Bach and Beyond Baroque Music Festival – June 9-11, 2017: A lively celebration of Baroque music featuring spirited performances of some of the greatest music ever written, performed in an acoustically-ideal Victorian setting. Top-flight performance by Baroque specialists will leave you applauding and wanting more. Host: 1891 Fredonia Opera House. Cost: $20/day. Contact: 716-679-1891
14th Annual Chautauqua Writers Festival – June 15-18, 2017: Live and write alongside award-winning poets, fiction and non-fiction writers who share their insights in intensive workshops, readings, panel discussions and individual conferences designed to ensure personalized attention. Host: Chautauqua Institution. Cost: $485.00 *does not include accommodations or meals. Contact: 716-357-6250
Stuart Fuchs Concert – Friday, June 16, 2017: Stuart Fuchs is a multi-instrumental, recording artist, sound healer, and an innovative and compassionate teacher. He is a lifelong minstrel and plays a wide variety of music styles on acoustic guitar and ukulele including folk, classical, jazz, rock, experimental, sacred and world music. On Saturday, there will be a separate event hosted by Stuart that will invite ukulele enthusiasts to learn the fundamentals of playing. Host: 1891 Fredonia Opera House. Cost: $30. Contact: 716-679-1891
The History Buff:

Walking Tour, Jamestown Churches – Saturday, May 27, 2017: Learn about the important role Jamestown's downtown churches have played in the city's development. Host: Fenton History Center. Cost: $10. Contact: 716-664-6256
9th Cavalry Civil War Encampment/Reenactment – June 10-11, 2017: Members of the 9th NY Cavalry camp and reenact throughout the weekend. Additional appearances by other reenactments groups, including the 20th Main Fife & Drum Corps. Visit mcclurgmuseum.org for a complete itinerary. Host: McClurg Museum & Moore Park. Cost: FREE. Contact: 716-326-2977
Walking Tour, Downtown Jamestown – Saturday, June 10, 2017: Learn about the people and businesses that thrived in the downtown Jamestown corridor from the early 1800s to the 1950s. Host: Fenton History Center. Cost: $10. Contact: 716-664-6256
NYS's Path Through History Weekend – June 17-18, 2017: Discover some of New York State's and the Nation's greatest natural wonders or relive some of sports greatest moments! Visit over 500 destinations across the state and choose from 13 themes to create your own Path Through History. Host: Chautauqua County Historical Sites. Cost: Varies. Contact: paththroughhistory.iloveny.com
Walking Tour, Lakeview Loop – Saturday, June 17, 2017: This tour is an informative mixture of architecture and history, with a number of significant north side homes and families featured. Host: Fenton History Center. Cost: $10. Contact: 716-664-6256
Grain Grinding Demonstration – Sunday, June 18, 2017: Watch live grain grinding the 3rd Sunday of each month. The Busti Mill is a historic grist mill located in the Town of Busti that was built in 1839 and remained in operation until 1960. It produced wheat flour, cornmeal, buckwheat flour and animal feed. Host: Busti Historical Society. Cost: Free. Contact: 716-483-3670
Chautauqua County Visitors Bureau is the official I Love NY tourism promotion agency for Chautauqua County, New York. Learn, laugh and play in Chautauqua County year round. For more ideas and a complimentary travel packet, visit http://www.tourchautauqua.com or call 1-866-908-ILNY (4569).