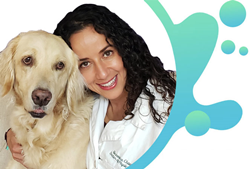 "The most important approach to treat patients recovering from COVID is strengthening the lungs, then re-educating the entire body to gain strength, mobility and balance," Dr. Chaux says.
THOUSAND OAKS, Calif. (PRWEB) January 22, 2021
Covid-19 can be a devastating disease, both during and after the infection. The most common post-infection symptoms reported while recovering from COVID-19 are pain, weakness, shortness of breath, extreme tiredness, mobility restrictions, joint stiffness, muscle tightness, headache, lack of energy, and difficulty sleeping.
Dr. Alexandra Chaux is a Doctor of Physical Therapy with extensive knowledge and experience in respiratory (lung) therapy and long-term mobility and strength care. "The most important approach to treat patients recovering from COVID is strengthening the lungs, then re-educating the entire body to gain strength, mobility and balance," Dr. Chaux says.
Having stronger lungs improves exercise tolerance, restores function, reduces stress, lowers anxiety, and improves quality of life.
Dr. Chaux's Post-COVID Recovery program includes:

Breathing re-education to improve oxygen saturation, reduce shortness of breath, reduce anxiety and depression, reduce fatigue, and improve lung capacity.
Myofascial release to relieve any muscle tension accumulated in the diaphragm, rib cage, breathing accessories muscles around the neck, shoulder, and upper back.
Rib and neck mobilization to improve range of mobility and function.
Assisted stretching to improve flexibility of tight sore muscles and improve mobility.
Therapeutic exercises to improve muscle strength in weak muscles and improve functional movements.
Energy conservation techniques for bed mobility, transfers, bathing, daily hygiene, gait ability to maximize oxygen intake.
Balance training for fall prevention.
Breathing techniques to manage stress, anxiety, and depression.
The post-COVID Recovery program created by Dr. Alexandra Chaux is designed to be provided in person or virtually via telehealth using Zoom..
The length of the Post-COVID Recovery program is typically twelve visits with one to three sessions per week. This schedule can be modified according to the patient's needs, goals and expectations.
Dr. Alexandra Chaux offers an individualized treatment in a private room with no aides or assistants to maximize the patient's safety, recovery time and to have a more effective treatment. Dr. Chaux accepts Medicare for this Physical Therapy.
Dr. Alexandra Chaux is very compassionate and accountable. She will spend quality time listening to your needs to understand the root of the problem and create a customized plan only for you to come back stronger after a COVID infection.
"Lungs breath life into human beings. Many of my patients have some level of lung dysfunction following recovery from the virus. Our aim is the strengthen our patients breathing and lung performance first. Then we tackle regaining flexibility, strength and balance in the body," said Dr. Alexandra Chaux, DPT.
The sooner the patient starts physical therapy after being released from the hospital and during COVID recovery time, the faster the recovery and a return normalcy.
Dr. Alexandra Chaux:
Dr. Chaux brings a wide variety of techniques and modalities she has learned in Colombia as a Physical Therapist as well as the latest techniques learned in Spain, and the United States for over twenty years.
Dr. Alexandra is a student for life, always taking classes and learning the latest techniques in Physical Therapy. Recently she earned a certification in Cortical Field Re-education Level 1, Functional Visceral Mobilization, Certified Yoga Instructor, and Kinesiology Taping Practitioner Certification in California.
She is certified in the Abdominal Hypopressive Level 1 and 2 which offers many benefits for both men and women's core strength and health. She went to Spain in January 2014 for several weeks to earn her certification from Doctor Marcel Caufriez himself, the creator of the Hypopressive Method.
If you are having hard time recovering or have a loved one who is, give us a call (805) 203-9940 to start your Post-COVID care program.