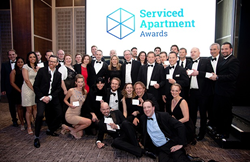 The Serviced Apartment News said, "Above all, winning entries will be exceptional in the success they have delivered."
Denver, Colorado (PRWEB) April 01, 2016
Over 350 industry leaders attended the black tie ceremony to celebrate the best in the serviced apartment, extended stay and short-term rental industries. The Serviced Apartment Awards are the first and only dedicated awards created for and by the serviced apartment, aparthotel, extended stay and short-term rental industry. The panel of independent judges each judged two awards, looking for clear evidence of achievement based on the judging criteria set.
The Serviced Apartment News said, "Above all, winning entries will be exceptional in the success they have delivered. Innovative solutions to problems being faced in the industry will receive extra credit, and providing tangible evidence of how the solution benefited the guest, provider or industry as a whole will stand out against those that do not."
Andrew Fowler, director of Urban Villa, said: "It's super news that the inaugural Serviced Apartment News Awards' will be a standalone event. Putting the spotlight on the individuals and businesses, and rewarding best in class achievements, will help drive the serviced apartment, aparthotel and extended stay sectors' quality standards and awareness. That's great news for all of us."
CHBO / Corporate Housing by Owner (CorporateHousingbyOwner.com), which just celebrated an important milestone of 10 years in business, is honored to be recognized by this prestigious international award. For the past 10 years CHBO has worked hard to develop an online platform that can best serve this unique niche hospitality market. Launched in 2006, CHBO has grown steadily throughout the decade to become a leader in its field, now supporting thousands of corporate housing rentals around the world.
Over the past 10 years, CHBO has built a reputation as an industry leader. Founded by corporate housing experts Kimberly and Eric Smith, CHBO was designed to meet the expanding extended stay lodging needs of the traveling public and to provide a marketing solution for furnished monthly rentals. CHBO serves as a lodging portal, providing renters with detailed property listings from properties they can trust. CHBO's services are always free to renters seeking a rental; landlords pay a small marketing fee to be included in CHBO's exclusive directory of residential furnished monthly rental properties.
As CHBO paves the way to the future, it pledges to continue to develop solutions for those property owners interested in tapping into the professional lodging opportunities of 30 day plus corporate housing rentals needed by traveling professionals around the world. Kimberly and Eric Smith are passionate about people and finding global solutions. They believe real estate investors will continue to invest and need the right support teams to protect those investments. "2016 is the year of the real estate investor," the Smith's say. "We're not just interested in running a website or a property management business. What we're doing is much bigger. We're educating and developing sustainable systems and residual income. We see today as a time that real estate investment can and should be as accessible as trading stocks." CHBO is excited to be a part of the next 10 years of the ever evolving corporate housing landscape.
Originally Published at: https://www.corporatehousingbyowner.com/pressrelease/corporate-housing-by-owner-inc-receives-best-short-term-rental-platform-award/