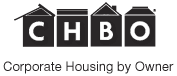 "Our company is always looking to enhance the search experience by making it user friendly to locate furnished rentals. This new update makes navigating easy using a desktop or mobile device," Jeremy Blackburn said.
DENVER (PRWEB) August 29, 2018
Corporate Housing by Owner (CHBO), the corporate housing marketplace, has unveiled a significantly updated search tool with exciting new features. Having sought out the latest search-related technology, leading-edge web design and online interface trends, CHBO has incorporated these to enhance the functionality of the site for both computer and smart phone users.
Visitors to CHBO's website will enjoy a wide range of upgrades. They improve the overall user experience, create a more user-friendly search process, and assist renters in finding corporate housing in their desired areas. It also aids advertisers in listing their corporate housing properties.
The search tool redesign includes both familiar and new features to better the search experience. Some of the features include:

The maps of selected search areas display property listings highlighted with colored pins that when clicked on show property information.
Search by Price Range – Users can now search for corporate housing by rental rates more easily, by using a convenient sliding scale to establish a desired price range.
Advanced Search Filters – New custom filters now allow searchers to get only the results that matter most to them including the ability to search by individual rooms available for rent.
Search area Sponsored listings, submitted by advertisers, are now more prominently displayed and easy to access.
Select Sort Order – Users can choose how search results are sorted and displayed with a single click, allowing maximum search refinement.
Date Selection – The search process has been streamlined for date selection.
Drag and Zoom – CHBO's new map feature can be dragged and zoomed with pinpoint precision, automatically showing new property listings as the mapped area is moved by the searcher.
One Click Save – Users can save properties they are interested in with a single click of the mouse, adding the listing to their bookmarks.
Multiple Image View – CHBO now provides access to multiple images of properties right on the initial search results page. It makes it easier for users to get a sense of what the property offers.
The combination of all these features has significantly improved the search options and has produced a robust smart phone interface, that will greatly please those accessing the CHBO site via this tool. Each new feature speaks directly to the user experience, by delivering refined results, faster search times and greater accuracy. While many of CHBO's upgrades are for those seeking furnished housing, they also benefit advertisers by further highlighting their corporate housing rentals resulting in more exposure.
For more information about CHBO or to view the new search page, visit https://www.CorporateHousingByOwner.com.
About CorporateHousingByOwner.com (CHBO):
CorporateHousingByOwner.com (https://www.corporatehousingbyowner.com/) is the world's largest marketplace for furnished corporate housing rentals. Founded in 2006, CHBO connects private homeowners as well as real estate investors offering furnished, short-term rentals with corporate housing seekers. It serves the larger Corporate Housing – Extended Stay Monthly Lodging Market, while simultaneously providing individual homeowners and property management companies the ability to manage and market their own corporate housing properties.
Contact: Corporate Housing By Owner, Inc. (CHBO)
Name: Jeremy Blackburn
Phone Number: 1 (504) 708-2223
Email: press(at)mychbo(dot)com
Twitter: https://twitter.com/MYCHBO
Facebook: https://www.facebook.com/MyCHBO/
LinkedIn: http://www.linkedin.com/company/CorporateHousingbyOwner.com