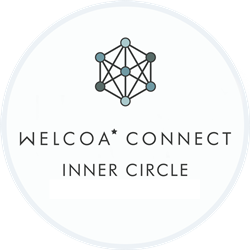 Now, more than ever, we have to ensure we are building empathetic and supportive cultures that prioritize the mental health of employees.
CHICAGO (PRWEB) September 23, 2020
A select group of employers across the country began a learning journey today to improve the emotional wellbeing of their populations by participating in WELCOA's Inner Circle on Preventing Burnout and Building Resilience. As the official underwriting sponsor of the Inner Circle, CHC Wellbeing will be collaborating alongside 100 other organizations to address the challenge of employee burnout and to develop tools for increasing resilience in the workplace.
The WELCOA Inner Circle is a workshop series for attendees to learn about the science of burnout and how to bolster employee wellbeing. The course will be highly interactive, as participants will work together to create solutions that can be applied immediately by their respective organizations. Led by positive psychology expert Stella Grizont, the Inner Circle will focus on what employees need to support their energy, motivation and engagement at work.
"We are proud to support this important initiative by WELCOA because it squarely addresses one of the biggest challenges facing our workforces," said Ramki Ramanarayanan, CEO of CHC Wellbeing. "Employers need practical, effective solutions that help them care well for the emotional wellbeing of their teams. Now, more than ever, we have to ensure we are building empathetic and supportive cultures that prioritize the mental health of employees."
A recent 2020 Wellness Trends survey by CHC and WELCOA identified that emotional wellbeing is a top wellness-related concern for the majority of employers. Stress, anxiety, depression and other related challenges were already growing needs across the United States as we entered this year. Recent events have magnified the trend.
According to a recent global study, 47 percent of employees are feeling burned out since the beginning of the COVID-19 crisis. This is a critical statistic, because burned out employees are more likely to quit, take a sick day and visit an emergency room.
"No approach to wellbeing is complete without a conversation about burnout and resilience," said Sara Martin, CEO of WELCOA. "Employees are carrying a heavy load right now, and they need help to lighten it. They need more time, more tools and more resources so they are better equipped to bounce back."
The WELCOA Inner Circle on Burnout and Resilience runs for the next six weeks. Once completed, members of WELCOA will be able to access key learnings from the group via their member resources page.
About WELCOA
WELCOA (The Wellness Council of America) is the nation's most respected resource for building high-performing, healthy workplaces. Throughout its 30+ year history as a nonprofit, WELCOA has perfected its patented Well Workplace protocol which is the key to developing, delivering, and sustaining a healthy corporate culture. Today, over 30,000 workplace wellness practitioners, human resources professionals, business leaders and consultants rely on WELCOA for tools, trainings and its Premier Provider Network (PPN) partners to move their wellness programs forward.
About CHC Wellbeing
CHC Wellbeing goes beyond wellness to true potential, helping individuals excel in every facet of their lives: physically, emotionally, socially and financially. With a proven track record of serving over a thousand clients, our evidence-based wellbeing strategies reduce costs, improve productivity and nurture an environment where people do their best work. Learn how you can reach your true potential by visiting http://www.chcw.com.