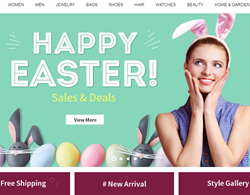 Special Introductions of Sales Promotion Activities on Easter Day from Cheap Clothing E-retailers.
(PRWEB) April 06, 2017
Easter is very late this year, and going by weather forecasts, this Easter will be hotter than ever before. To ensure timely delivery of products before the festival, the leading e-commerce stores will begin their sales promotion activities a month before the festival. Various e-commerce stores have started selling fixed price clothing products and gearing up for the biggest sales for the hottest Easter since March this year.
ZAFUL: THE BIGGEST SALES PROMOTION
ZAFUL is an e-commerce website which offers competitively priced clothing for young women and fashionable swimsuits. Awesome savings & excting games - win cashback, gift cards & more. Easter Day Sales Promotion is going to be the biggest sales extravaganza in the history of ZAFUL. The activity, which began on March 22, will end on April 26. Three major event highlights and takeaways are:
1. Discount Coupon = Order Value
From now until April 11, once a customer pays for orders they will receive a cash coupon pack. The Total Coupon Value will be equal to the Order Value.
2. Win $50 Gift Cards
Rock one's egg style on ZAFUL's community Z-ME. Create one's Colored Egg (as many as he or she want), then post a picture of it with the tag #diyeggs for a chance to win a $50 Gift Card.
3. More Exciting Offers
Get free gifts with every order from April 12th till April 19th.
SAMMYDRESS, THE BEST CHOICE FOR CHEAP PLUS-SIZE CLOTHING AND HOME DÉCOR PRODUCTS
The highlight of the sales promotion event on the Easter Day is Smashing Easter Eggs. Users participating in activities will gain a free order or a 10% off discount coupon. In addition to the Smashing Egg event, Sammydress will also sell hot products with discounts as high as 50% as a part of promotional activities, and the discounted products include plus-size clothing, home & decor products for Easter as well as men's clothing.
http://www.sammydress.com/promotion-EASTER-SALE-special-208.html
NASTYDRESS, SEXY PRODUCTS WITH LOW PRICE
Nastydress has always been known for cheap and sexy costumes. Their Easter promotional activity is also themed around that. 75% discount is offered on hot swimsuits, club & party dresses, plus-size lingerie, plus-size swimsuits and sexy men's underwear. Nastydress is committed to providing free shipping to any place globally. If one wants to buy affordable clothing in this Easter, Nastydress is the best choice.
http://www.nastydress.com/
TRENDSGAL, EXTREMELY LOW PRICE
It is unbelievable to buy a dress at $5 and a swimsuit at $6, but it is possible in Trendsgal. During the Easter promotions, one will feel the price is too low and too good to be true. Because Trendsgal sells inventory products at extremely low prices and sizes for many products are not available, the products are updated slowly. Trendsgal is not a great choice for women pursuing the latest styles. But if he or she is a savvy shopper, and like something with high-cost performance, it is not bad to buy them in Trendsgal.
http://www.Trendsgal.com/promotion-Easter-Sale-special-246.html
Takeaways: E-commerce brands above are global E-commerce brands. One thing that Savvy shopper needs to know is that the delivery time required in cross-border shopping is longer than that in local shopping, so it is crucial to ask customer service about the arrival time if one wants packages to be received before the Easter Day.