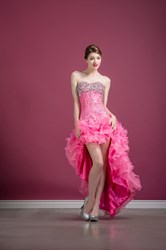 Los Angeles, California (PRWEB) December 12, 2013
Top online retailer of women's fashion, Abby Dresses, has announced some incredible tips on how to look slimmer and sexier in a party dress. Abby Dresses carries wide verity of formal dresses, evening gowns, club dresses and many more dresses from well-known designer and up and coming designers.
Looking good in a cocktail dress is one of the main things that women struggle with. Having a negative body image, low confidence level, and a lack of knowledge on the latest trends play a role in making women feel unsexy in dresses. Whether one is looking for a prom dress, designer dress, cocktail dress or bridesmaid dress, looking slim and sexy can be a challenge if one does not know what to look out for.
The incredible stylists and fashion gurus at Abby Dresses have thankfully come up with a list of things that women should do when shopping for dresses. Whether it is at Forever 21, Ross Dress for Less, Dress Barn, Simply Dresses, or at Abby Dresses, it is important to keep these tips in mind.
1. Opt for Fitting Dresses
No matter one's shape and size, it is important to stay away from dresses that do not fit well. One may think that a loose fitting dress will cover up unwanted bits but on the contrary, it makes on look even larger and more horizontal. Accentuating one's silhouette in a well tailored party dress is important when trying to look slimmer. Whether one is shopping for a bridesmaid dress, cocktail dress, cheap dress or designer dress, it is best to stay away from dresses that are shapeless. This does not mean that one should run out and buy the first tight dress one lays eyes on. When shopping for a prom dress or bridesmaid dress, ensure that it is not too tight. Opt for something that boasts ruched material as a ruched style will tuck in unsightly bits and bumps. Material like organza is also great as it flows over the body's contours without hugging it too tightly.
2. Opt for Bold Designs
Bold and bright designs are a great form of camouflage as they hide the body's true outline. Observers will tend to notice the print more than the wearer's body shape, giving off the overall illusion that one looks slimmer. One important thing to remember is to stay away from neutral colors and go for bright ones instead. This is because the bolder and deeper the color, the better the slimming effect.
3. Opt for V-neck Dresses
Stay away from prom dresses, cocktail dresses, and any other type of dress with a horizontal neckline. Opt for dresses with sexy V-necklines. This is because it dips vertically, giving off the illusion of a lengthened torso and neck. This will enable the wearer to look slimmer and sexier.
4. Opt for A-line Skirts
Designer dresses with A-line skirts have and always will be very popular. Hence, it will not be hard to find a party dress with an A-line skirt. The reason for this is because they create a lovely balance that avoids one from looking too heavy on top. Whether it is a knee length A-line skirt or one that flows to the ground, this type of skirt is the most flattering on all body types and will do wonders for one looking for a prom dress or modest dress that will make her look slimmer.
For more information on the selection of cheap formal dresses, little black dresses party dresses, evening gowns, graduation dresses, holiday dresses and Christmas dresses on Abby Dresses, contact the company at abbydresses(dot)com or call 1-877-913-6539.