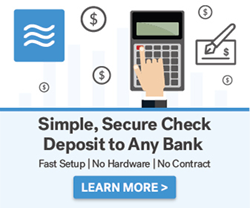 "CheckStream enables simple, secure business check deposit and streamlines accounting workflows."
Chicago, IL (PRWEB) August 15, 2017
Earth Class Mail today introduced CheckStream, a simple and secure way for businesses to deposit checks remotely. CheckStream enables millions of businesses that receive checks to easily make deposits with just a click, to any bank, and seamlessly record payments to QuickBooks Online and Xero.
"This solves a real, tangible problem for a lot of businesses that get physical checks," said Earth Class Mail CEO Doug Breaker. "The solutions on the market today are not flexible, place a lot of burden on employees, don't natively integrate with cloud services, and often don't support small and medium businesses. CheckStream fixes those problems."
With CheckStream all a business needs to do is update their payment mailing address with one of Earth Class Mail's, available in all U.S. states. Earth Class Mail receives the checks, scans the entire contents to a searchable PDF, endorses each check, reconciles the deposit, completes the deposit slip, and overnight mails the deposit to any bank - with a full audit trail for each item.
CheckStream offers businesses unprecedented flexibility and control over their payments. Scans can be accessed online on any device, from anywhere in the world. Importantly - operations are secure, facilities are 24/7 video and audio monitored, and all employees are HIPAA trained.
It's the simplest way to streamline receivables and stop making trips to the bank. Deposit on your own schedule, keep digital copies forever, and record payments directly to the cloud.
To learn more, inquire, and sign-up visit: https://www.earthclassmail.com/checkstream
Earth Class Mail, Inc. invented office mail automation more than a decade ago, transforming physical mail into digital intelligence. As the industry leader in virtual mail, check deposit, and address solutions Earth Class Mail is a valued partner to thousands of businesses every day.
For more information, visit https://www.earthclassmail.com/.
Media Contacts: Earth Class Mail media(at)earthclassmail(dot).com