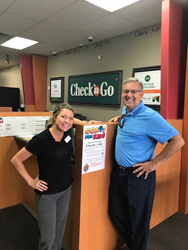 "We are thrilled to be part of Coats For Kids. This is the first year that Check `n Go has joined the cause, and we're already blown away by what a great response we have had from our communities. We really want to see this program go state-wide next year."
TEXARKANA, Texas (PRWEB) October 25, 2018
In partnership with The Knights of Columbus, fourteen East Texas Check `n Go locations are collecting new coats for needy children and families through the Coats For Kids program. The locations are collecting light jackets and winter coats now through November 9.
The East Texas Knights of Columbus have been collecting coats during the fall months for three consecutive years, and 2018 marks the first year of the partnership with Check `n Go.
John Collard, Sales Culture and Efficacy Director of Check `n Go, said, "We are thrilled to be part of Coats For Kids. This is the first year that Check `n Go has joined the cause, and we're already blown away by what a great response we have had from our communities. We really want to see this program go state-wide next year."
Check `n Go has set a goal of collecting 400 coats by the end of the program on November 9. The Longview Ministries has a list of needy families and will begin the process of coat distribution at the end of the campaign.
Monetary donations are also being accepted, and the money raised will be used to purchase new coats. For more information visit:
http://www.kofc.org/en/charities/articles/coats-for-kids.html