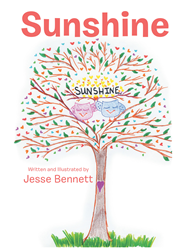 "It is important for children to understand that it is okay that they are not feeling bright and sunny at all times," Bennett said. "They need to understand that, with the loving support of their family, they can work through anything."
ROSEVILLE, Calif. (PRWEB) October 14, 2019
Children's book author Jesse Bennett recently published her latest book: "Sunshine." This uplifting tale inspires young readers to have confidence—despite life's challenging moments. Following a fun family of owls, the adorable illustrations and uplifting verbiage in this book help bring positivity into young readers' lives.
Bennett's latest book illustrates that there will not always be "sunshine" moments in life. Parents can utilize this book as an aid to remind their children that the negative moments in life are fleeting and the sun will eventually come out! This very honest, uplifting story will help spark discussion between parents and their children—providing parents with a platform to have a discussion with their children about the challenges they face.
"It is important for children to understand that it is okay that they are not feeling bright and sunny at all times," Bennett said. "They need to understand that, with the loving support of their family, they can work through anything."
Carrying on the structure of her first book, "The Yoga House," Bennett includes a meditation that readers can walk through with their children to promote mindfulness and peace in their lives. Also, there are journal questions to facilitate a meaningful discussion between parents and children.
"Sunshine"
By Jesse Bennett
ISBN: 978-1-4808-7797-9 (softcover); 978-1-4808-7798-6 (hardcover); 978-1-4808-7796-2 (electronic)
Available at the Archway Publishing Online Bookstore, Amazon and Barnes & Noble.
About the author
Jesse Bennett is a Pilates instructor, yoga instructor, wife and mother. Bennett has experience teaching kids' yoga and loves sharing yoga and mindfulness with children. She is the author of two children's books: "The Yoga House" and "Sunshine." These books both promote positivity in readers' lives. She currently resides in Roseville, California and attended the University of Southern California.
For Interview Requests & Review Copies, Please Contact:
LAVIDGE – Phoenix
Krista Tillman
480-648-7560
ktillman@lavidge.com