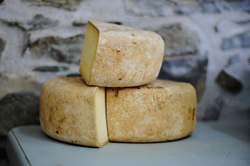 For 2020, Gourmet Cheese Club is the obvious choice among Cheese Club subscription plans
OVERLAND PARK, K.S. (PRWEB) December 10, 2020
TopConsumerReviews.com once again gave its best-in-class five-star rating to Gourmet Cheese Club, a long-standing favorite among subscription-based Cheese Clubs.
Most foodies absolutely love cheese: paired with the right wine, melted over vegetables or used as a fondue for dipping bread, by itself or with crackers. The possibilities are nearly endless. While supermarket selections of cheese can be disappointing, with limited varieties and the same handful of manufacturers, there's a way to get unusual types of gourmet cheese delivered right to the doorstep: Cheese Clubs. Whether given as a gift or enjoyed personally, these membership plans curate the finest cheeses from artisans around the world and often include a newsletter describing their origins, uses and fun facts. Cheese Clubs usually offer a wide range of subscription lengths and payment options, making it a fun and flexible gift-giving possibility for any occasion.
"For 2020, Gourmet Cheese Club is the obvious choice among Cheese Club subscription plans," affirmed Brian Dolezal of TopConsumerReviews.com, LLC. "As part of the Monthly Clubs brand family, this membership service has provided superior gifts for more than two decades. Each monthly delivery comes with three mouth-watering half-pound selections, often from European artisans who craft their cheese in small batches. One feature that makes this Cheese Club an excellent option for gift-giving is the fun and informative newsletter included with every package. This Cheese Club can be configured for monthly, bi-monthly or quarterly deliveries, for a membership length ranging from 2-12 months. Plus, Gourmet Cheese of the Month Club is backed by a 100% satisfaction guarantee. For all of these reasons, this continues to be our favorite Cheese Club available today, earning Gourmet Cheese of the Month Club another five-star rating in 2020."
To find out more about Gourmet Cheese Club and other Cheese Club options, including reviews and comparison rankings, please visit the Cheese Clubs category of TopConsumerReviews.com at https://www.topconsumerreviews.com/best-cheese-clubs/.
About Gourmet Cheese Club
Family-owned and operated since its inception, The Gourmet Cheese of the Month Club is run today on the same core principles that the business was founded on in 1994. Committed to consistently delivering quality products and offering variety both within the box and from month to month, Gourmet Cheese Club is dedicated to building long-lasting personal relationships with customers by offering effective, responsive customer service from a trustworthy company. Gourmet Cheese Club is one of 6 clubs offered by MonthlyClubs.
About TopConsumerReviews.com
TopConsumerReviews.com, LLC is a leading provider of reviews and rankings for thousands of consumer products and services. From Cheese Clubs to Coffee Clubs and Gift Baskets, TopConsumerReviews.com delivers in-depth product evaluations in order to make purchasing decisions easier.