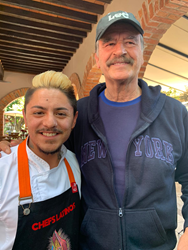 I am truly grateful and humbled forever. - Chef Arturo Banuelos
TEMECULA, Calif. (PRWEB) November 14, 2019
Inland Detox, Inc. is proud of and grateful for its Chef, Arturo Banuelos, to be invited to prepare a gastronomical masterpiece for former President Vicente Fox of Mexico. The Chefs Latinos Guanajuato Festival Gastronomico was held at La Hacienda San Cristobal located in Leon, Guanajuato, Mexico where President Fox was born and raised on Saturday, November 9, 2019. The event featured a total of 18 renowned Chef's from Latin America to California serving as an opportunity to honor the President showcasing the culinary talents and skills of up-and-coming Latino Chefs from all over North and South America.
"It is a total group of 18 Chefs from all over Latin America and California. Just being invited to be a part of this dinner is an honor and I never would have thought that I'd ever be invited to such an event," said Arturo Banuelos, Head Chef at Inland Detox, Inc. "I am truly grateful and humbled forever."
While Chef Arturo Banuelos is surprised to have been invited, the staff and clients at Inland Detox aren't so surprised. "Chef Arty is the best! All of our clients are overwhelmed by the food he prepares for them and he brings something to his work and to our program that cannot be quantified: Authenticity, kindness and positivity in everything he does," said Kenneth Corioso, Owner and Chief Operating Officer of Inland Detox. "How many people are ever invited to prepare food for a President? It's one of the best things I've ever heard about our program at Inland Detox and I'm humbled to have someone like Chef Arty with us," said Kyle Hartfield, Owner and CEO of Inland Detox. "He is a consummate professional. I'm excited to work with him and our client's ultimately benefit from him the most."
Inland Detox is a substance use disorder treatment facility located in Temecula, CA licensed by the California Department of Health Care Services providing inpatient alcohol detox, drug detox, drug rehab and alcohol rehab services to clients from all over the United States. Recently, Inland Detox became one of the few TRICARE approved, in-network substance abuse recovery programs in Southern California. Many people with TRICARE insurance are unaware that their insurance gives them TRICARE drug rehab coverage and we are proud to be one of the few programs to offer a full-service TRICARE drug rehab program," said Kyle Hartfield, CEO of Inland Detox.
You can view the fantastic creations of Chef Arturo Banuelos and contact the Chef directly on Instagram @el_chef_art and at @xicana_dinners.
About Inland Detox: Inland Detox is the premier drug and alcohol detox and long-term residential treatment provider in the Inland Empire approved by TRICARE. We serve clients throughout Southern California and throughout the United States. Our goal is to help you detox comfortably and give you the opportunity to stay for 30, 60 or 90 days for residential treatment.