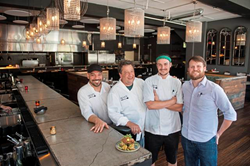 "It is an honor to be nominated among such a tremendous group of culinary talent for doing what I love," said Chef Frangiadis. "At Spork, we pride ourselves on crafting an experience that is both modern and down-to-earth. I'm humbled to be recognized by such a prestigious foundation."
PITTSBURGH (PRWEB) March 04, 2020
The James Beard Foundation has named Executive Chef and Owner Christian Frangiadis of Spork in Pittsburgh one of the Best Chefs in the Mid-Atlantic region as part of its 2020 Restaurant and Chef Award semifinalists. The announcement marks the 30th annual James Beard Awards presented by Capital One, known as one of the highest honors for leaders in the food and beverage industry. The Restaurant and Chef Award nominee finalists will be announced in Philadelphia on Wednesday, March 25.
"It is an honor to be nominated among such a tremendous group of culinary talent for doing what I love," said Chef Frangiadis. "At Spork, we pride ourselves on crafting an experience that is both modern and down-to-earth. I'm humbled to be recognized by such a prestigious foundation."
Chef Christian is the visionary behind the restaurant's seasonal, ingredient-driven approach with scratch preparation taken to the extreme. He leads the team in developing and implementing an ambitious seasonal menu that is, first and foremost, dedicated to what he is able to source at its peak. He approaches the menu from a place of true curiosity and executes his cooking with both time-honored and modern techniques that highlight his down-to-earth dishes.
Many restaurants toss around the words "local" and "seasonal" liberally, but Chef Christian operates in a class of his own. An on-site garden and greenhouse fuels Spork's kitchen with fresh vegetables, herbs, and fruit. Flour is milled in-house and is used to create Spork's signature bread board. Spork has developed an extensive fermenting program that extends the garden season into the colder months. A robust pantry of garums, misos, koji cured vegetables and fermented powders infuse umami flavors into the cuisine at every turn. All pasta is crafted by hand, and a selection of meats and vegetables are smoked in-house. Spork's open kitchen brings aplomb to the creative, approachable experience that makes dining at Spork a must-do while in Pittsburgh.
Christian got his start in restaurants at Le Bordeaux in Tampa, where he began as an apprentice. He worked his way to sous chef within three short years. From there, he moved to Seattle to work as Executive Chef at La Rive Gauche and Tosoni's. He later made his way back to his hometown of Pittsburgh to open and helm the kitchens of several restaurants, including Isabela on Grandview, Christian's at Turtle Creek, and Southwest Bistro.
His adventurous spirit beckoned him to explore, and he moved to the U.S. Virgin Islands for seven years, where he began experimenting with Caribbean flavors and ingredients. Today, he infuses these elements into his menu at Spork, particularly during the warm summer months. Christian opened Spork in 2016 with the quirky, approachable spirit embodied in its name, and enhanced the dining experience in Pittsburgh with his uniquely crafted culinary experience. From Roasted Dry-Age Duck to Spork Garden Gnocchi, every item is made from scratch, in-house.
His philosophy of approachable, unobtrusive service lends itself to rewarding guest interactions, which provide him with immediate gratification. "Pleasing people is pleasing," he says. When he's not in the kitchen or planning new restaurant concepts, Christian is with his family. He also moonlights as an amateur DJ, with a penchant for hip hop and dancehall records.
The full list of 2020 semifinalists can be reviewed directly at the The James Beard Foundation website. The nominee announcement will begin at 9:00 A.M. ET on Wednesday, March 25 and will be streamed live. Nominees will also be announced in real time via Twitter feed. The James Beard Foundation holds an online open call for entries beginning in mid-October of each year. Entries received, along with input solicited from an independent volunteer group of more than 250 panelists around the country, are reviewed by the Restaurant and Chef Committee to determine eligibility and regional representation. Based on the results and eligibility requirements for each award, the committee then produces a nominating ballot that lists the semifinalists in each of the 23 Restaurant and Chef Award categories. The list of semifinalists is then voted on by more than 600 judges from across the country to determine the final nominees in each category. The same group of judges, which comprises leading regional restaurant critics, food and wine editors, culinary educators, and past James Beard Award winners, then vote on the nominees to select the winners. Tabulations to determine the nominees and winners are done by independent auditor EisnerAmper. The governing Awards committee, board of trustees, and staff of the James Beard Foundation do not vote, and the results are kept confidential until the presentation of the winners in May. James Beard Awards policies and procedures can be reviewed at jamesbeard.org/awards/policies.
About Spork: ABOUT SPORK: Spork is a chef-owned, modern American small plates restaurant in Pittsburgh, Pennsylvania, serving dinner Monday through Saturday. Executive Chef Christian Frangiadis leads a robust team that makes pastas, cures meats, bakes pastries and more entirely from scratch, every day. The menu at Spork changes nightly, based on what is in season at the farmer's market or on-hand at the butcher, to showcase the diverse bounty of Western Pennsylvania produce. Seasonal craft cocktails, unique wines from around the world and local drafts are available, as well. Spork is located at 5430 Penn Avenue, at the corner of Penn Avenue and South Graham Street. Hours of operation are 5:00 pm – 10:00 pm Monday through Thursday and 5:00 pm – 11:00 pm Friday and Saturday. For more information, please visit Spork's website or follow along on Facebook, Instagram and Twitter.
About the James Beard Foundation: The James Beard Foundation's mission is to promote Good Food for Good™. For more than 30 years, the 501(c)(3) nonprofit organization has highlighted the centrality of food culture in our daily lives. Through the James Beard Awards, unique dining experiences at the James Beard House and around the country, scholarships, hands-on learning, and a variety of industry programs that educate and empower leaders in our community, the Foundation has built a platform for chefs and asserted the power of gastronomy to drive behavior, culture, and policy change around food. To that end, the Foundation has also created signature impact-oriented initiatives that include our Women's Leadership Programs, aimed at addressing the gender imbalance in the culinary industry; advocacy training through our Chefs Boot Camp for Policy and Change; and the James Beard Foundation Leadership Awards, which shine a spotlight on successful change makers. The organization is committed to giving chefs and their colleagues a voice and the tools they need to make the world more sustainable, equitable, and delicious for everyone. For more information, please visit jamesbeard.org and follow @beardfoundation on Instagram.