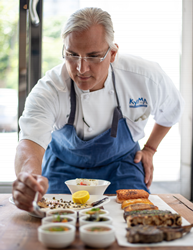 "We wanted to bring authentic Greek cooking products to at-home chefs, giving consumers an exclusive journey into each region of the country. I'm excited to share these Greek culinary products as it's a look and taste into my passion, travels and family history."
ATLANTA (PRWEB) May 25, 2021
Chef Pano I. Karatassos debuts his exclusive line of signature, curated cooking products imported from Greece titled "Chef Pano" at Natural Products Expo West Virtual 2021. The line, available nationwide, includes Organic Extra Virgin Olive Oil from Crete, Extra Virgin Olive Oil, Purple Olives from Kalamata, Green Olives from Chalkidiki, Forest Honey from Mount Olympus and Wild Thyme Honey form the Aegean Islands. Inspired by his grandmother who taught him the fundamentals of Greek cuisine, Chef Pano traveled throughout Greece to source each product. The nationwide availability of Chef Pano's specialty Greek product line is the latest accomplishment for the Atlanta culinary scene pioneer – other recent successes include the publication of his debut cookbook, Modern Greek Cooking, and defeating Bobby Flay on The Food Network show, Beat Bobby Flay.
"We wanted to bring authentic Greek cooking products to at-home chefs, giving consumers an exclusive journey into each region of the country," said Chef Pano I. Karatossos, founder, Chef Pano. "I'm excited to share these Greek culinary products as it's a look and taste into my passion, travels and family history."
The Chef Pano line includes:

Organic Extra Virgin Olive Oil from Crete – 750 ml bottle; robust and fruity, great in vinaigrettes and used as the finishing touch in many recipes. Considered to be one of the best in the Mediterranean, Chef Pano's olive oil is "cold pressed" meaning the olives never exceed a certain temperature during the entire pressing process - around 80 degrees Fahrenheit. Keeping the olives cooler ensures maximum quality.
Greek Forest Honey from Mount Olympus – Deeply sweet with malty notes & a dark amber color, the Oak Tree Raw honeydew honey is produced in Greece by artisan bee-keeper, Alexandros Gousiaris. Oak tree honey has a complex taste and is less sweet compared to nectar honeys - enjoy with traditional Greek yogurt drizzled on top of manouri or simply spread on a warm slice of sourdough.
Greek Wild Thyme Honey form the Aegean Islands – An exceptional honey harvested from wild thyme, which grows on the dry rocky slopes of the Aegean Islands, thyme honey is renowned for its intense, spicy aroma and herbal, savory flavor. Pair with Greek yogurt or drizzle on Greek donuts called Loukomades.
Kalamata Olives – Kalamata olives are abundant in the same healthy fat found in olive oil. Known for their bold taste and low acidity, black or deep purple Kalamata olives are harvested in December when fully ripened in the valley of Messina, near the town of Kalamata. Kalamatas are served well as a tapenade spread or as an ingredient in a Greek salad.
Green Olives from Chalkidiki – There are two basic varieties of Chalkidiki olives – green and black. In fact, these belong to the same type of olive. They are only harvested at different times. Green olives are harvested while still young, in mid-September. The time for black olive harvesting comes around two months afterward, when olives reach maturation. Olives are rich in Vitamin E, which eliminates free radicals.
Greek Extra Virgin Olive Oil – 3-liter can; restaurant pack version. Greece produces the highest quality olive oils in the world made from the most sought after olive, the Koroneiki Olive. This Organic Extra Virgin Olive Oil is robust and fruity, great in vinaigrette's and used as the finishing touch on many recipes. This is a high poly-phenol oil with a superior rating of 0.2% Free Fatty Acidity, so it is extremely healthy.
In addition to Amazon, Chef Pano's signature product line is available for purchase via chefpano.com. Also available nationwide is Chef Pano's cookbook, Modern Greek Cooking. Written in collaboration with his cousin, Sophia Perpera, one of the world's leading authorities on Greek wines, the cookbook includes photography by acclaimed food photographer Francesco Tonelli and a forward by longtime friend and mentor, Thomas Keller.
For more information about Chef Pano products, visit: http://www.chefpano.com.
About Chef Pano
As executive chef of Atlanta's acclaimed Kyma restaurant, Chef Pano I. Karatassos has redefined the taste, style and ingredients that comprise what he refers to as Modern Greek Cooking. Chef Pano grew up in the kitchen, watching and listening as his Yiayia (Grandmother) prepare traditional foods and work magic with traditional Greek ingredients like olives, olive oil and honey. In the 1980s and '90s, Pano I. Karatassos watched his father, Pano Karatassos, founder and CEO of the Buckhead Life Restaurant Group, trail blaze the Atlanta culinary scene and at 16, the younger Pano began working in his father's kitchens. He refined his culinary calling with degrees in hospitality management from Florida International University and from the Culinary Institute of America in Hyde Park, N.Y. Working in renowned restaurants like the French Laundry, Jean-Georges and Le Bernardin, Pano learned from some of the world's most influential chefs: Thomas Keller, Jean-Georges Vongerichten and Eric Ripert, respectively. In 2001, he opened the award-winning Greek restaurant Kyma in Atlanta. In late 2018, Chef Pano debuted his cookbook, Modern Green Cooking, and in August 2019, he defeated Bobby Flay by preparing his signature dish, Lamb Pie, on The Food Network show, Beat Bobby Flay. For more information, visit: http://www.chefpano.com.