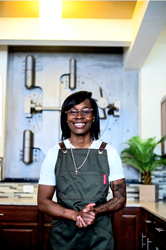 For this talented Chef and African-American female United States Veteran, the future is very bright.
NEW YORK (PRWEB) July 18, 2019
The summer is bursting with food festivals, new restaurant openings, fun holiday cookouts, and tons of amazing recipes and ideas shared on social media, television, and radio. For Chef Roshara Sanders, the summer is full of inspiration.
On June 26th the BITE Northwest Arkansas in Bentonville kicked off a three-day annual food festival. Thousands turned out to enjoy the delicious flavors of the season and meet the talented chefs. The host arranged an exclusive lineup. Chef Roshara Sanders cooked at the "Chef's Table Experience" curated in partnership with the James Beard Foundation Impact Programs Team. She led a series of interactive cooking demonstrations aimed at educating and entertaining event-goers while also giving them up-close access to herself and other acclaimed chefs.
What makes Roshara so unique beyond her culinary talent and charming personality is how her background defines her bright future. A graduate of the Culinary Institute of America, Roshara is a decorated U.S. Army veteran who won the show "Chopped: Military Vets" in 2015. She has a strong desire to give back. Be it through food education, employing veterans, supporting the community, enriching cultural programs, or lending a hand to help farmers and sustainable corporations. In a recent interview with Cuisine Noir, Roshara explained that she seeks to educate others on sustainability. Roshara says, "As chefs, we need to help speak out on what we want in our communities. We must educate people, open up more farmers' markets, and support the farmers. Without farmers, there is nothing."
Roshara recently collaborated with Habitat for Humanity and Whirlpool Corporation to share her culinary passion with Habitat homeowners and their families through "Home Cooking with Love." Chef Sanders grew up in a Habitat home with her loving mother, who put in countless hours to build her dream home. Chef Sanders has a real passion for food, family, and her artistry. Whirlpool understands that the home kitchen is the central place for love. We create memories of food.
"Through our partnership with Habitat for Humanity, we donate a range and refrigerator for every home built in the in the U.S. and Canada, impacting 104,000 families," said Deb O'Connor, director of Corporate Reputation and Community Relations, Whirlpool Corporation. "This year we're especially excited to mark our 20 years in partnership with Habitat by working with Chef Roshara Sanders, who has created two original recipes for Habitat homeowners to enjoy making with their Whirlpool appliances."
Since its partnership with Habitat began, Whirlpool has also donated more than 42,000 products to Habitat for Humanity ReStores, engaged thousands of employee volunteers, sponsored nearly 180 homes, and donated products to more than 76,000 Habitat families in Europe, the Middle East and Africa.
Chef Roshara's recipes are available online at https://www.whirlpoolcorp.com/chefro/.
This year, Habitat and Whirlpool will continue finding ways to empower Habitat homeowners in the kitchen through "Home Cooking with Love." Chef Roshara shares her inspirational story and her gift for the art of good food with many. "I'm living proof of what happens when two organizations come together to do good. My mom was a single parent, and she worked three jobs, all in the food industry. Cooking has been a part of my life since I can remember," says Sanders. "Now, cooking is an art for me."
To read the first recipe and stay up to date on others from Chef Roshara, in collaboration with Whirlpool, please visit: https://www.whirlpoolcorp.com/chefro/
For this talented Chef and African-American female United States Veteran, the future is very bright. It's exciting to see her progress and inspire a nation. She is currently in development of new innovative menus and handcrafts recipes for some of Hollywood's biggest stars. Following in the footsteps of some of the most recent James Beard Award winners we are all excited to welcome this beautifully diverse chef into the ranks of the most influential one to watch.