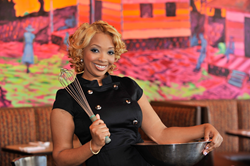 Chef Huda's life mission is to improve people's relationship with food and help the world find "A Healthy and Happy Food Place".
Washington, D.C. (PRWEB) December 08, 2014
Chef Huda, multi-talented owner of Washington, D.C. area culinary company Pretty & Delicious™, has made Food Network history by winning $23,900, the largest personal prize earnings to date of a contestant, on Food Network's hot and sizzling cooking show Cutthroat Kitchen hosted by Alton Brown. The milestone episode "S'Mortal Combat" featuring the competitive-culinary mastermind, Chef Huda, aired Sunday, November 30th, at 10:00 p.m. (ET) and will re-air Wednesday, December 17 (9pm ET/8C), Thursday, Dec. 18 (12am ET/11c) and Friday, Dec. 26, (5pm E/4C).
"I had so much fun. It was amazing competing against such an incredible group of uber-talented chefs," Chef Huda said. "But make no mistake, I worked hard to prove that I'm not just the pretty and delicious chef, I am cutthroat competitive when it comes to being the best!"
Chef Huda, who specializes in healthy comfort-food, outsmarted her competition in the "chilly chili" sabotage, challenging two chefs to harvest ingredients from a block of ice. The chefs then faced an unexpected, dangerous dim sum challenge. In the final challenge, s'mores were made after her competitor shot marshmallows at a giant graham cracker and chocolate target. In the end, celebrity-tasting judge, Jet Tila, declared Chef Huda's dish as the best one and she won the competition with the largest personal winnings in the history of the show.
Currently in its sixth season, Cutthroat Kitchen challenges four chefs to cook gourmet dishes to be judged by a guest celebrity, but introduces auctions in which they can purchase opportunities to sabotage each other or benefit themselves. Each chef is given $25,000 at the start of the show. The winner keeps whatever money he/she has not spent in attempts to sabotage the other competing chefs. For re-air dates in your area, check local listings or visit http://www.foodnetwork.com.
ABOUT CHEF HUDA
Chef Huda, a multi-talented executive chef and owner of Pretty & Delicious culinary company in Washington, DC., was featured on the first season of ABC's "The Taste" with Anthony Bourdain and Nigella Lawson. She was recently a James Beard Foundation "Taste America" Dinner celebrity guest auctioneer.  Raised in a completely organic household, Chef Huda specializes in healthy comfort food and is an Ambassador for the American Heart Association and spokesperson for The CW Network's "Healthy DC" Campaign and supports the American Diabetes Association. Additionally, she's been featured in the Washington Post, on NBC, CBS, Fox, The CW, DC50, The Howard Stern Show, The Steve Harvey Show, Vogue Italia, Ebony, Monarch Magazine and many more. Huda's life mission is to improve people's relationship with food and help the world find "A Healthy and Happy Food PlaceTM. She is a graduate of the University of Maryland, College Park and Le Cordon Bleu and was honored with the 2013 Tastemaker Excellence Award. Chef Huda is also a highly sought after writer and TV personality.
###
For more information visit; http://chefhuda.com
Sizzle Reel:  http://vimeo.com/63187893
Social Media; Twitter: https://twitter.com/ChefHuda
Facebook: https://www.facebook.com/MyChefHuda
Instagram: http://instagram.com/chefhuda
MEDIA CONTACTS:
Priscilla Clarke, 202-723-2200, priscilla(at)ClarkePR(dot)com
Jen Maguire, 212-366-1796, jen(at)maguirepr(dot)com
EDITOR'S NOTE: Official Art, video available on request from Food Network