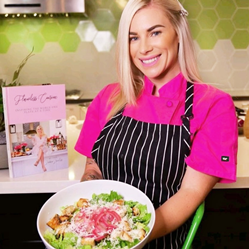 I wanted to bring fine dining to customers in a new and elevated way, sharing my food for all of San Diego to enjoy. It was a fun way to showcase my talent and recipes during a pandemic and I enjoyed bringing a different concept to the streets of my hometown
FORT LAUDERDALE, Fla. (PRWEB) February 06, 2021
ChefUniforms.com (Chef Uniforms), a leading manufacturer and distributor of high-quality chef and hospitality apparel worldwide is proud to partner with and support one of the company's ambassadors, Chef Lauren Lawless on the recent opening of her new restaurant, food truck and appearances on Food Network's Supermarket Stakeout and season 19 of Hell's Kitchen.
In January 2021, accomplished Celebrity Chef Lauren Lawless became the proud owner of her new restaurant, Flawless Bistro & Bar located in Escondido, California, in the Boulder Oaks Golf Club. The restaurant offers a diverse lunch, dinner and dessert menu with a weekend-only brunch special.
"I felt like the next step in my career was to become a restaurant owner and I have done just that. I'm very proud of myself and my team," noted Chef Lawless. "Without them, this dream of mine wouldn't be possible."
Additionally, Chef Lawless launched her food truck, Flawless Cuisine this past September 2020, bringing a gourmet tapas menu to the streets of San Diego, California six days a week.
"I wanted to bring fine dining to customers in a new and elevated way, sharing my food for all of San Diego to enjoy. It was a fun way to showcase my talent and recipes during a pandemic and I enjoyed bringing a different concept to the streets of my hometown," Chef Lawless remarks.
ChefUniforms.com is proud to have provided Chef Lawless, her food truck and restaurant teams with exclusive chef apparel for men and women. Her team can be seen wearing the following chef gear: Women's Short Sleeve Chef Coat with Knotted Buttons, On the Line Men's Short Sleeve Value Chef Coat - Button Front Closure, Chef Unisex Adjustable Knives Bib Apron and Chef Unisex Adjustable Donut Shop Bib Apron. Chef Lawless can also be spotted wearing her Chef Unisex Adjustable Bib Apron in Chalk Stripe Black, Women's Short Sleeve Chef Coat with Knotted Buttons and Women's Drawstring Stretch Chef Pants in Black.
Moreover, Chef Lawless is the recent winner of Food Network's Supermarket Stakeout, as seen on season two, episode 11, which aired on May 26, 2020. Starting on January 2021, Chef Lawless makes her debut on Hell's Kitchen Season 19, where she and other hopeful chefs battle for the opportunity to win $250,000 and become the new head chef at Gordon Ramsay's new restaurant.
The prolific chef has other works in the pipeline: she is hoping to open a second restaurant and plans for more television appearances in the future. She attributes her success as a small-business owner to her perseverance and tireless zest to accomplish her dreams, listening to her audience and catering her craft to their needs. She urges Chefs with similar goals to follow her advice and keep their passion going.
"My advice would to be keep working hard, keep learning, keep listening and most importantly, keep evolving. Never stop fighting for what you believe in. Consistency is the ultimate key to your success. You have to learn to roll with the punches and make things happen no matter what the situation."
To learn more about Chef Lauren Lawless, visit her website https://www.flawlesscuisine.com/
To learn more about Chef Uniforms and their exclusive apparel, visit https://www.chefuniforms.com.
About ChefUniforms.com
ChefUniforms.com is an apparel brand that manufactures and distributes high quality culinary and hospitality apparel worldwide. Chef Uniforms remains determined in its mission to provide a large selection of innovative high-quality chef apparel at the best prices. Chef Uniforms corporate office is based in Fort Lauderdale, Florida with a distribution center near Atlanta, Georgia. For more information, visit http://www.chefuniforms.com. Follow Chef Uniforms on Facebook, Instagram, and Twitter.