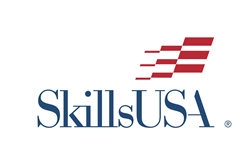 I have a passion for the mission, and I am committed to building on SkillsUSA's strong reputation to meet the needs of the future of work with the talents of our students, insights of our teachers and requirements of our industry partners
LEESBURG, Va. (PRWEB) November 21, 2019
Chelle Travis is the new executive director for SkillsUSA, a leading career and technical (CTE) student organization in America that serves students and teachers. Travis brings 17 years of leadership experience to the role with a solid track record of implementing and elevating the mission and program of SkillsUSA in her home state of Tennessee. She began her new role Nov. 4 at the SkillsUSA national headquarters in Leesburg, Va., where she leads a full-time staff of 34.
"I'm humbled and honored to serve as the executive director of SkillsUSA," Travis says. "I have a passion for the mission, and I am committed to building on SkillsUSA's strong reputation to meet the needs of the future of work with the talents of our students, insights of our teachers and requirements of our industry partners."
Travis, the fourth leader of SkillsUSA since its founding in 1965, embodies dynamic and progressive leadership that will expand on the organization's momentum and build critical relationships with industry, says SkillsUSA board president Jennifer Worth. "Her history with the organization, capabilities as a systems leader, passion for the mission and her vision for the future all make her an excellent fit to lead us," Worth adds.
Travis formerly served the Tennessee Board of Regents as assistant vice chancellor for the Colleges of Applied Technology and is also a former state SkillsUSA director. In those roles, she collaborated with business and industry, educators, legislators and other leaders to design curricula, develop programs and draft legislation. She holds an MBA and a bachelor's degree in business from Middle Tennessee State University and is completing a doctoral degree.
Travis succeeds Tim Lawrence, who served as SkillsUSA's executive director for 19 years and who grew membership and financial support for the organization in a steady upward trajectory. "The board is immeasurably grateful for the service Tim provided over his career," Worth says. "His integrity, thoughtfulness and passion drove the organization to new heights."
Lawrence describes Travis as "a proven leader in our space who strongly believes in the mission of our work, and cares deeply about students, teachers and partners. She is a champion for career and technical education and a highly skilled workforce."
About SkillsUSA
SkillsUSA is a nonprofit partnership of education and industry founded in 1965 to strengthen our nation's skilled workforce. Driven by employer demand, SkillsUSA helps students develop necessary personal and workplace skills along with technical skills grounded in academics. This SkillsUSA Framework empowers every student to succeed at work and in life, while helping to close the "skills gap" in which millions of positions go unfilled. Through SkillsUSA's championships program and curricula, employers have long ensured schools are teaching relevant technical skills, and with SkillsUSA's new credentialing process, they can now assess how ready potential employees are for the job. SkillsUSA has more than 360,000 annual members nationwide in high schools, colleges and middle schools, covering over 130 trade, technical and skilled service occupations, and is recognized by the U.S. departments of Education and Labor as integral to career and technical education. For more information: http://www.SkillsUSA.org.