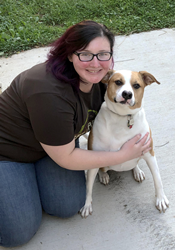 Pet Wants' fresh, high-quality food was exactly what Spirit needed and owning my own local franchise allows me to have her as my co-pilot and be home with her when I need to. Spirit motivates me to build this business – she's my why. - Chelsea Abanathie
MILWAUKEE (PRWEB) November 18, 2019
Local entrepreneur and pet parent Chelsea Abanathie is pleased to announce the launch of her new pet food and supplies business, Pet Wants MKE Lakefront.
Pet Wants' specially-crafted, private label pet food formulas are made in small batches with fresh, natural ingredients enhanced with vitamins and minerals for a complete and balanced diet in every bowl. Pet Wants MKE Lakefront offers multiple blends of dog and cat food formulas as well as healing salve, calming balm, anti-itch spray, paw wax and more. Pet Wants MKE Lakefront is a mobile business that offers free, personal delivery to the Historic Third Ward, East Side, Shorewood, Whitefish Bay, Glendale, Fox Point, Brown Deer and the surrounding area.
"I grew up with dogs and, from the minute I moved into a dog-friendly apartment, I knew I wanted a dog. I adopted Spirit more than two year ago and she is a huge part of my life. I'm careful about what I eat and put into my own body and, as Spirit went through a host of health issues, I realized it was important to pay attention to what she was eating as well. I'm looking forward to bringing a healthy, convenient pet food option to this region," Abanathie said.
Pet Wants has a 100-percent, money-back guarantee on the freshness and quality of the food and the company only sources the best salmon, chicken, lamb, brown rice and other ingredients available. There's no sugar added, no fillers and no animal by-products and Pet Wants never uses corn, wheat, soy or dyes, which makes the food great for animals with allergies.
Abanathie is originally from St. Louis and she graduated from Indiana State University with a degree in Operations and Supply Chain Management and a minor in German Language Studies. She moved to Milwaukee after graduation for a job in manufacturing and has called the Milwaukee area home ever since. She's also an active volunteer and pet foster with Lucky Mutts Rescue. Abanathie started thinking about opening her own business after adopting her now 4-year-old rescue dog named Spirit.
"I took Spirit to the emergency clinic five times before we found out she had Irritable Bowel Syndrome. Finding healthy, clean, fresh food was critical for her well-being. Also, with all her health issues, I hated going to work every day and leaving her alone," Abanathie said. "Pet Wants' fresh, high-quality food was exactly what Spirit needed and owning my own local franchise allows me to have her as my co-pilot and be home with her when I need to. Spirit motivates me to build this business – she's my why."
To learn more about Pet Wants MKE Lakefront, call 414-301-3553, email CAbanathie@PetWants.com or visit https://www.petwants.com/mkelakefront.