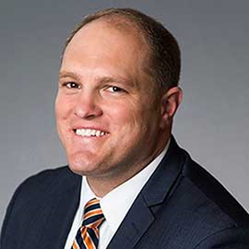 RICHMOND, Va. (PRWEB) January 24, 2020
Nationally acclaimed and growth oriented public accounting firm Cherry Bekaert LLP ("the Firm") is pleased to welcome John Ure, JD, as a Tax Principal in the Firm's Private Client Services group and Estate, Gift & Trust practice.
Based in Cherry Bekaert's Rockville office, John focuses his practice on serving the needs of high-net-worth business owners, individuals and their families. He specializes in working with clients through all phases of growth: from start-up, to business growth and succession, to retirement and gift planning. John manages a wide range of high-net-worth client relationships, assisting individuals, trusts, partnerships, and those with corporate and tax-exempt tax planning and compliance matters.
"For clients planning to transition or sell their business, John's experience in working with closely-held and family-owned businesses to develop efficient tax strategies will prove invaluable," commented Susan Moser, Managing Partner of the Firm's Washington, DC practice.
Prior to joining Cherry Bekaert, John was an estate, gift and trust director with a large regional CPA firm and held tax consulting positions with two local CPA firms. He also worked in the legal profession as an estate and trust attorney.
About Cherry Bekaert
Ranked among the largest audit, tax and advisory firms in the U.S., Cherry Bekaert LLP offers specialized solutions in the areas of cybersecurity, specialty tax, transaction advisory, risk advisory, technology consulting, benefits consulting, litigation support, valuation and wealth management. With clients in all 50 states and internationally, we have specialists in the sectors of technology, health and life sciences, industrial manufacturing, private equity, real estate and construction, and government contracting. We exercise a deliberate curiosity to know our clients' industries and work collaboratively as one team to guide them forward.
Cherry Bekaert LLP is a founding, independent member of Baker Tilly International, a top-ten global accountancy and business advisory network. Visit us at cbh.com.