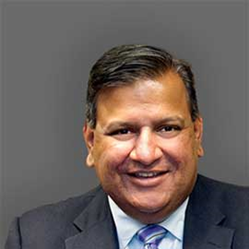 RICHMOND, Va. (PRWEB) April 22, 2020
Cherry Bekaert LLP ("the firm") is pleased to welcome Srikant Sastry as Managing Principal of Advisory Services. Sastry will serve as a member of the firm's management team, and provide leadership for the Advisory service line, which offers a cross-functional suite of value-added offerings that make a difference for our clients.
Sastry brings more than 25 years of experience helping a broad array of clients across multiple commercial and public sector industries. He most recently served as the national managing principal for U.S. advisory services for a global big six CPA and consulting firm, where he was responsible for the planning, coordination and execution of advisory businesses across all U.S. industries. He also served as an associate partner at IBM Consulting and as a principal consultant for a Big Four accounting and consulting firm.
"We know that our clients are facing an ever-evolving business environment," said Michelle Thompson, Cherry Bekaert's Chief Executive Officer and Firm Managing Partner. "Through leading our Advisory service line, Srikant will bring the deep expertise required to deliver pragmatic solutions that address our clients' most pressing and complex challenges."
Sastry received a B.A. in Political Science from University of Massachusetts, an M.P.A. from Indiana University and a J.D. from George Washington University. He will be based in Cherry Bekaert's Tysons, Virginia, office.
About Cherry Bekaert
Ranked among the largest audit, tax and advisory firms in the U.S., Cherry Bekaert LLP offers specialized solutions in the areas of cybersecurity, specialty tax, transaction advisory, risk advisory, technology consulting, benefits consulting, litigation support, valuation and wealth management. With clients in all 50 states and internationally, we have specialists in the sectors of technology, health and life sciences, industrial manufacturing, private equity, real estate and construction, and government contracting. We exercise a deliberate curiosity to know our clients' industries and work collaboratively as one team to guide them forward.
Cherry Bekaert LLP is a founding, independent member of Baker Tilly International, a top-ten global accountancy and business advisory network. Visit us at cbh.com.